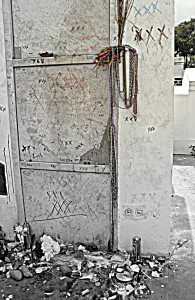 Queen Marie Laveau of New Orleans Voodoo, the divine lady that started the spiritual revolution.
There may have been other Voodoo priestesses before her in the city of New Orleans, but there was no one like Marie Laveau, except maybe her daughter, but I will explain that later. This legendary woman was said to do everything from providing psychic consultations for Queen Victoria to concocting psychedelic gumbo for inmates sentenced to hang in the gallows. She was the first woman to hold open Voodoo rituals for the public at the edge of the French Quarter in Congo Square, reported in the local newspapers of the time as being attended by all races and classes of individuals. There is nothing in the history of this woman that is not supremely incredible. She has been the stuff of legend, song and tribute for over 100 years. Queen Marie Laveau is said to have known all secrets of the visible and invisible world.
There are many good books on her life and lore, and her grave today is the second most widely visited in the U.S., right after Elvis Presley. She is said to have floated on the waters of Lake Pontchartrain with lit candles on her head and arms for St. John's Eve-the most sacred night of New Orleans Voodoo Tradition. Her death, like her life was shrouded in great mystery, even the exact date of her demise and location of her body are points of contention. Part of the issue is that her daughter, of the same name continued her psychic practice right where she had left off. There are a few things that are certain, both ladies had great power, passion and skill. Maybe you are like me and you're hoping to relieve the bad taste American Horror Story left in your snake filled mouth, so if you are looking to discover more accurate information about these ladies who paved the way for so much of what practitioners still do today there are a few resources I will briefly recommend.