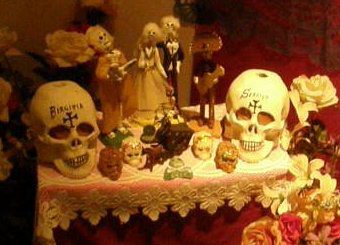 Among the Yoruba peoples of West Africa the ancestors are honored as Egungun, while in Haiti the dead are often revered as Les Barons and Les Gedes, in Mexico they are honored as the Muertos, but no matter where one is located , prayers are offered up daily to give thanks to those who have come before. Always present in the blood that courses through our veins, and in the ground on which we walk, the ancestors are venerated in many different spiritual traditions. Samhain or Halloween as it is more commonly celebrated is undoubtedly a time for celebrating the ancestors and in that spirit I present the following recipe based on one from my cookbook African-American Ritual Cooking. 
Yams and their American cousin sweet potatoes occur in a myriad of different permutations throughout the African world. As symbols of life, rejuvenation, fertility, and honor they deserve a privileged place on any ritual table. This recipe is a New Orleans style take on the bountiful yam featuring two of the city's favorite ingredients Bourbon and Pecans.
Sweet Potato Mash with Bourbon and Pecans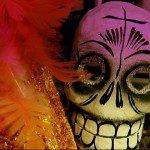 5 sweet potatoes
4 tablespoons bourbon
1 stick unsalted butter
1 tbs freshly squeezed orange juice
1 tbs peach nectar
4 oz. pecan halves
3/4 tsp. salt
1 tablespoons molasses
2 dashes nutmeg
2 dashes cinnamon
1 tablespoon honey
Prick with fork then roast sweet potatoes in 375-400 º oven for about 1 hour, or just until tender. When cool, peel and mash together with bourbon and 6 tablespoons of butter . Mix well add cinnamon and nutmeg,1 tbs orange juice, and season sparingly with salt and pepper . Transfer mixture to shallow baking dish. Turn the oven temperature down to 325º
In another shallow baking dish spread pecans , sprinkle with additional cinnamon and nutmeg. Bake for 10 minutes, or until they begin to smell strong. Remove from oven and toss with 2 tablespoons butter , 1 tablespoon honey , and salt. Place pecans on top of sweet potato mash, drizzle with molasses, Bake 20-30 min. or until lightly browned and bubbly. Enjoy with your family past and present.