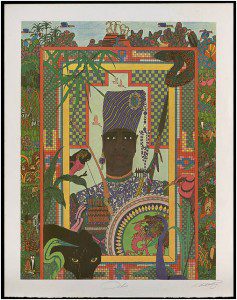 In the religion of Santeria, more appropriately known as La Regla Lucumi, the trilogy of warriors called Los Guerreros are Eleggua, Ogun, and Ochosi. Eleggua is the guardian , the gatekeeper, the trickster translator who starts you off on your sacred journey. Ogun is the soldier, the warrior, the army surgeon, the machete wielding Orisha who clears your path of all unnecessary obstacles. Then there is Ochosi. The pataki about how these warrior alliances were formed is eloquently written on Cuban-Traditions.com. They are all honored in succession. The end result is that Ogun and Ochosi are especially fast friends. In Santeria, more properly known as La Regla Lucumi, sometimes they are even kept together in the same iron cauldron.
Come and Live in My House
Ochosi is traditionally in charge of jails and cages. He is a champion of truth and justice. There is a common prayer that roughly translates "Ochosi, come and live in my house, so I don't have to live in yours." Some people even leave small jails on their altars in homage to this connection. Ochosi's other traditional tools, called Herramientas de Ochosi ( iron tools of Ochosi), can include iron crossbows, scales, fishhook, arrows, machetes, an iron rifle, knives, scalpels, and swords. Again this varies within each ile, or spiritual house. Ochosi is also believed to have special protection over dogs, and will deliver punishment to anyone who mistreats them.
Into the Woods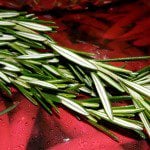 Like his soul brother Ogun, Ochosi is most at home in the woods. He is thought of as a wizard and a sorcerer, a psychic with the power to see into the future. He is a master of many herbs including: anise, anamu (garlic), purple basil, clove, hyssop, honeysuckle, peonia, rosemary, and wormwood. Ochosi is the ultimate marksman and tracker. In this capacity Ochosi provides for the community. Native American symbolism is also attributed to Ochosi: Deerhorn, turquoise, animal hides and skins. His colors are either Lilac or Green. His ritual number is 7. Occasionally he is represented by the Catholic St. Norbert, who feast day is June 6. The ceremonial movements for Ochosi are a marvel to behold. Here is Cubamemucho Ochosi- These graceful movements of ritual mimic the hunt and the kill, the delicate dance of life and death.
Ochosi is just one of many powerful warrior Gods or Orisha in the religion of Santeria. To learn more about the powerful Afro-Diasporan Warriors of the past and present: Eleggua, Ogou, Ochosi, Chango, and more.
please visit my workshop Los Guerreros: Warriors of the Soul this weekend at
Saturday April 19th 3pm
296 Main Street
Cornwall, NY