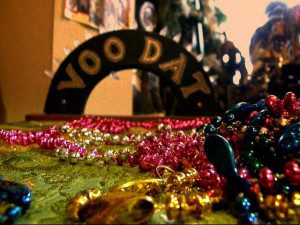 There is nothing new about spirits for the spirit. The following uses traditional Voodoo flavors and liquors to make a drink fit for all the Voodoo Mamas out there, and maybe some big bad Voodoo Dads too. In the New Orleans Voodoo tradition we like to celebrate the sacred and the decadent side by side. This ritual drink recipe will deliciously help you do both. Iko Iko, party on!
Voodoo Mama Drink Recipe
3 ounces pineapple juice (for blessing from the mother of the Ocean)
1/2 lemon, juiced ( used for protection)
1/2 lime, juiced (used for protection and cleansing)
1 ounce dark Rum, again we always prefer Barbancourt (traditional offering for the Voodoo ancestors)
1/2 ounce coffee liquor (traditional offering for the ancestors)
1/2 ounce coconut liquor ( used for ritual cleansing spells)
Combine all ingredients and serve over ice.
For more ritual recipes from New Orleans, Cuba and beyond please see my African American Ritual Cookbook and Cook Eat Cha, Cha, Cha by Phillip Bellber.