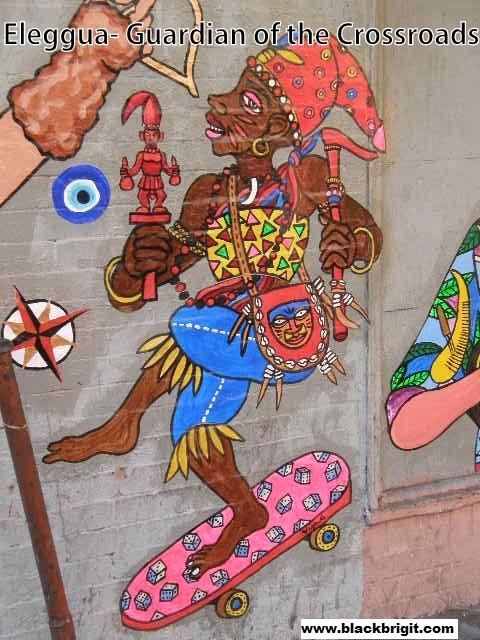 The religion of Santeria, also known as La Regla Lucumi, regularly uses scared baths and washes to bring about positive change in their worshiper's lives. These baths are traditionally used for love, money, success, and just about anything else you can imagine. The formulas below can also be used as spiritual floorwash by adding a few dashes to your regular cleansing mixture.
Before you start any ritual cleansing of yourself, first be sure that your home is clean. My post Cleaning House with Santeria gives lots of ways to purify your sacred space. It is always best to work with your Santeria (Lucumi) godparents for guidance and direction. The following baths, however, can be used to attune yourself to the Ashe, or sacred energy of the Orisha (divine spirits.) There is a recipe for an Eleggua bath to salute the guardian of the crossroads, and one for Oshun, the goddess of love and gold.
Eleggua- Work With Me Bath
Before using this bath offer 21 pennies at the crossroads. Clear your mind and your agenda of limiting belief and open your spirit to new possibilities.
3 drops coconut oil
3 drops lavendar oil
3 drops heliotrope oil
1 cup coffee
1 cup spring water
1 cup holy water
Combine all ingredients in a large glass bottle. Use on Mondays to help bring the trans-formative energy of Eleggua into your life.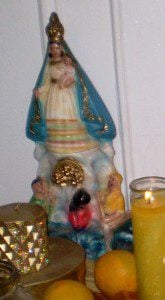 Oshun Shower Me With Gold Bath-
5 cinnamon sticks
5 drops neroli oil
5 drops ylang ylang oil
5 drops rose absolute oil
5 cups river water
Place all ingredients into a pan, bring to a boil. Let the mixture cool, strain through cheesecloth or strainer. Take the bath by pouring into a full tub on the full moon. Use the bath time to meditate on wealth and prosperity coming into your life.