Alcohol is a normal offering for the spirits in the traditions of New Orleans Voodoo, Haitian Vodou, and Cuban La Regla Lucumi, also known as Santeria. Most people are familiar with the custom of offering rum as a blessing. Some altar setups definitely give the impression that the bar is always open. People of all religious traditions have been known to leave out a glass of wine, or pour out a sip of beer or whiskey for those who are no longer with us. The use of alcohol as an offering, however has evolved into so much more.
The Crystal Head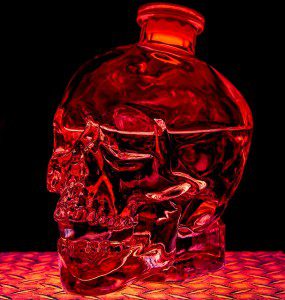 Modern practitioners have certainly taken a liking to the new Crystal Head Vodka. This beverage seems primed for use in a spiritual context, not only because of the skull shaped bottle, but because the elixir itself is filtered through Herkimer Diamonds, a special variety of Quartz crystal that is said to grant magickal healing properties. Plus the company is partly owned by former Ghostbuster himself, Dan Akroyd. The Crystal Head website explains "the Head. Not a skull, but a head. A symbol of life to reflect the … message of spiritual power and enlightenment. An exquisite vessel to house a white spirit of super natural purity." Wow, that's quite a statement. I've tried the vodka, it's pretty good,but I don't know if I felt healed any more than I do after any much needed libation.
Magick of the Bacardi Bat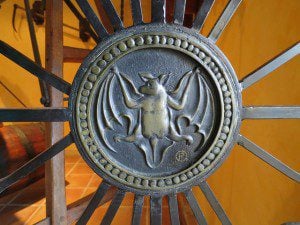 Bacardi has long been synonymous with both potency and strength. It's the rum of choice in many places, and the Orishas are also big fans. Even the company knows this, I received a promotional keychain from the Bacardi company some years back that even spoke of the bat as " the emblem of mystical power and good fortune."
Many Ocha houses include weekly offerings to the warriors Eleggua and Ogun of rum, and some houses offer Ochosi Anisette. There are a lot of Santo inspired cocktails on the internet, not sure what if anything they have to do with the religion. I found a Santeria cocktail containing Bacardi and Red wine, which might make an interesting offering for the ancestors.The Santeria Martini featured on the Bacardi website contains equal parts of Bacardi and Vermouth, stirred and strained, not shaken.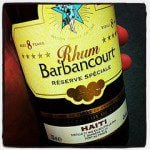 Rum is also the beverage of the Lwa, or deities in Haiti. In Haiti the specific rum of choice is Barbancourt, the best one around, ask any Haitian. A Brazilian Candomble devotee once told me her house was fond of giving their Exu Gin as an offering.
The Real Fire Water- Chamba
Then there is a blend that is the stuff of legend among various Santo and Palo Mayombe houses, that blend is called Chamba, Like most good recipes, everyone has their own special and secret formula for making Chamba. It can include a variety of hot peppers, and even gunpowder. This is definitely not for the weak, and is used in ritual to prove the strength and fortitude of the Orisha/Lwa as they descend. The blog Caribbean Spirituality and Understanding has a wonderful post on this sacred beverage. I don't recommend making or drinking your own chamba, and this information is purely for educational purposes.
What are your favorite spirits for the spirit? Drink up, throw down, and share yours in the comments below! For those who would like to learn more there are recipes for offerings of all kinds in my African-American Ritual Cookbook, check it out.