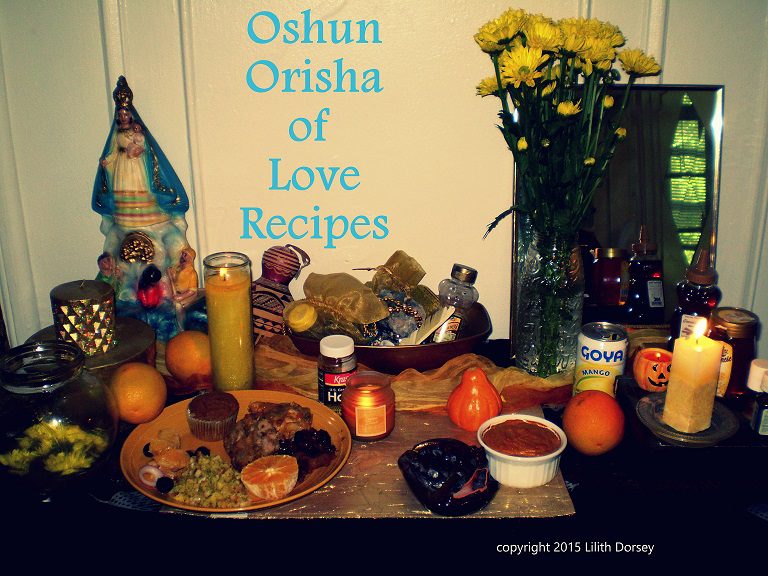 Sweet, sensual, powerful, and divine Oshun is the Orisha, or goddess, of love and beauty. In the religion of La Regla Lucumi, also referred to as Santeria, her feast day is celebrated on September 8th. This time of year many spiritual houses, my own included, turn their attention towards this lady of love and the preparations to be made in her honor.
One of the traditional stories for Oshun tells of her attempted poisoning with honey. This is just one of the many reasons her worship  is focused heavily on the food. The ritual menus and offerings for Oshun are varied and always delectable. Please always use your best judgment and proceed according to the advice of your elders, but that said, here are some exciting recipes and formulas to get you started.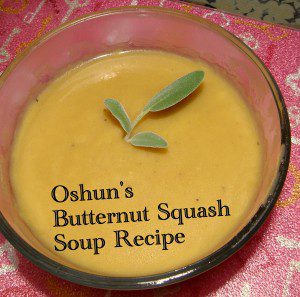 Last year at this time, I posted my recipe for Oshun Butternut Squash Soup. Pumpkins, squash, and gourds are often associated with Oshun as a representation of her fertility and abundant blessings. Katz Rodriguez, the Green Eyed Witch, gives us a recipe for a traditional oil lamp, using vanilla flan. These lamps are a time honored way of connecting to this Orisha. This is not for eating but rather divine offering. There is an Oshun cocktail featured here containing mint, rum, and ginger brew. All that I can say about that is … interesting. The most controversial recipe I came across was from Zindoki.com for an Oshun and Oya Chaos Seduction cake. Seriously I'm not sure why anyone would want to make this, even the author states it is dangerous.
Many practitioners recommend spells containing foods as part of working with Oshun. Judika Illes' book
Earth Mother Magic
has a delightful incense formula using brown sugar and oranges, both favorites of this goddess. Another traditional favorite for Oshun is
Xin Xin
, a spicy Brazilian offering containing shrimp and ginger. A recipe for this can be found in my
African-American Ritual Cookbook
. Customarily Oshun's offerings of food, flowers, and the like are left at the river with five coins. The river is the place where her sacred Ashe, or divine energy, resides. If you have an Oshun shrine or altar, you may also choose to place your offerings there.
This year the feast menu for our spiritual house in New York City will most likely contain Foxy Cleopatras (spicy pumpkin balls,) Peach cobbler, and Oshun Mango Salsa just to start. What are your favorite offerings and dishes for this sensual Orisha of love? I'd love to see photos or comments about your Oshun offerings below.
Please remember to share your offerings, the love, and maybe even this post !