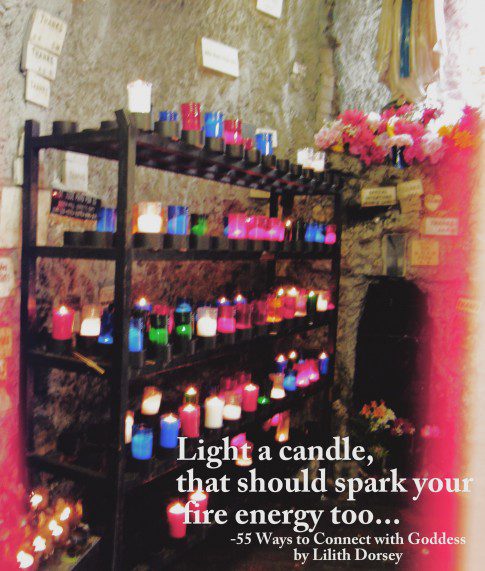 Number 7  "Look to the stars … light a candle, that should spark your fire energy too, and sing, dance or make music for the goddess. "
– 55 Ways To Connect To Goddess
These past few weeks were full of astrological events. There was a Full Moon on my birthday March 23rd, and a Lunar Eclipse to boot. These times of lunar power and transformation can, hopefully, make us feel more connect to the Goddess in all her forms. In my book 55 Ways To Connect To Goddess, I talk about the moon goddesses: " Io, Luna, Selena, Taini, and Isis, as well as dark moon goddesses like Lilith and Hecate. Find our where your moon is in your chart, that may be a key to unlock better ways of relating to the goddess and your own intuitive spirit."
Many practicing Witches focus on the Moon's connection to water and the realm of the emotions, but there is also a sacred fire here to this energy that should not be forgotten. This fire power can be cultivated through the use of a candle. Take a large 7 Day Candle in Glass, you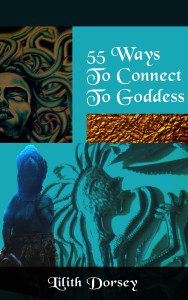 may use a Blue one for tranquility and peace or a White one for an all purpose blessing of the Moon's light. Then add a small pinch of some of the Lunar Herbs from the list below. Be sure to use only a small amount of herbs at first, you can add another pinch as the candle is burning and the wax begins to melt. Place the candle outside or on your windowsill (where the Moon's rays will touch and infuse it) during the Full moon, or Eclipse or whatever Moon time you are trying to connect with. Light it for one hour while you concentrate on the Moon's power. You may use whatever invocation or blessings you choose at this time.
Moon Herbs
Nutmeg – Love and Transformation
Orris Root/ Iris – Love and Protection
Seaweed – Protection and Nurturing
Lemon – Cleansing and Friendship
Jasmine – Love and Blessings
Gardenia – Love and friendship
Sandalwood – Healing and Luck
Wintergreen – Protection and Healing
This candle can them be used and re-lit at any time you wish to re-connect with these energies.
If you have enjoyed what you have read here please remember to share, share, share!