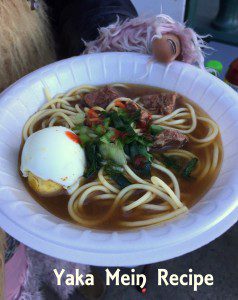 On first glance, a bowl of Yaka Mein looks as bizarre as the city of New Orleans itself. A mix of noodles, broth, meat, and topped with a hard boiled egg gets one's mind and taste buds wandering. This Mardi Gras we were lucky enough to get a sample of the Yaka Mein at the Backstreet Cultural Museum in the Treme. It was a welcome delight. Also known as Yaka Mo, Yaya Meat, and other exotic names, the history of this dish is as interesting as the recipe itself. It is said to have been invented during the Korean War by soldiers overseas. An alternate history, claims it grew out of the New Orleans Chinese immigrant community. Either way, it was said to have been the ultimate hangover cure, and science has even proven it's benefits.

""Ya-Ka-Mein is one of New Orleans' well-best-kept secrets. It is a soup. They call it Old Sober" these are the words of
Chef Linda Greene
. Around town she is known as the Ya-Ka-Mein Lady, and she offers varieties such as duck, beef, shrimp, vegetarian, and alligator. New Orleans icon 
Big Freedia
 says "My momma made me and my sister and brother Yaka meat as a kid—it's a standard New Orleans dish. It's more than just comforting, though. Honey, it cures any hangover or any type of overindulgence you get into down here—and you will overindulge in my city! It's the perfect dish for your post Mardi Gras blues." So here is the Voodoo Universe version of this Crescent City favorite, Enjoy ! For more of our recipes please see the
African-American Ritual Cookbook
by Lilith Dorsey.
Yaka Mein Recipe
1 lb meat, cooked and shredded (try beef or duck)
1 lb Spaghetti
1 Red pepper, seeded and chopped
1 Green Pepper, seeded and chopped
1 handful scallions, chopped
2 tbs. Coconut oil
4 cups Beef Broth
Water to cook Spaghetti
4 hard boiled eggs, halved
1 tsp. Onion powder
1 tsp. Smoky Paprika
1 tbs. Creole Seasoning (try Slap Your Mama)
1 tsp. Celery Salt
Soy Sauce,Hot Sauce, Salt and Pepper to taste
Cook Spaghetti and drain. In a large pot heat oil, add green and red pepper, when their color begins to brown, add meat, broth, half of the scallions, onion powder, paprika, seasoning, and celery salt. Cook for 1 hour or longer over low heat. Add water if necessary. Add Soy Sauce, Hot Sauce, Salt, and pepper to taste. Part of the joy of Yaka Mein is in the assembly. Serve in individual bowls, start by placing a serving of spaghetti. Then add meat and broth, cover with green onion, and top with a sliced hard boiled egg, and a dash of hot sauce if you dare. Serves 6-8 individuals.
If you like what you have read here do what you would do with a good bowl of Yaka Mein and share, share, share !