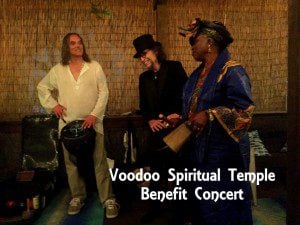 The Voodoo Spiritual Temple is in it's 26th year. As many of you know, it is part of my heart and soul. Priestess Miriam has been like a mother to me for decades, and it is an honor to be part of all the good they do there. Earlier this year on Feb. 1 2016 the temple suffered a fire. A Moveable Feast and Concert took place on April 3rd at Hotel Storyville 1261 Esplanade Ave, New Orleans. There was food, a silent auction, entertainment and more. The highlights shown in this video were performances by the Voodoo Spiritual Temple Drummers, Big Chief Sunpie Barnes, and the Black Storyville Babydolls.  An amazing time was had by all. Watch the video and see for yourself.
A special thanks goes out to Witchdoctor Utu and Priestess Miriam, who by the way will be appearing at this weekend's
Hexfest
, one of the most exciting events around, that I am proud to have been part of in previous years. While I'm at it, a big shoutout too, to Big Chief 'Sunpie' Barnes, who it is always an honor to be around. I must say it was my great pleasure to film him for the second time this year. Here is my video featuring him and the Skull and Bones Gang on Mardi Gras morning :
For those who haven't heard the  Voodoo Spiritual Temple has since relocated to 1428 North Rampart St, New Orleans. The new locale is just down the road from the old location and provides a colorful new beginning. For more information about the temple please go to their website voodoospiritualtemple.org and please support the ongoing fundraising efforts on the gofundme page to help with the enormous expenses surrounding the move. We truly appreciate it ! And as always if you enjoyed what you have seen here please do us a favor and share the love !