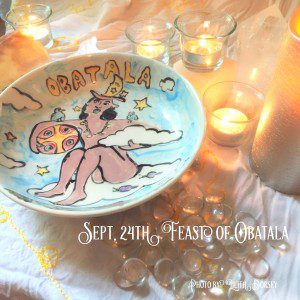 Calm, peace, purity, bliss, … all of these are the blessings of the Orisha Obatala. In the religion of Santeria, more commonly known as La Regla Lucumi, Obatala is viewed as the wise parent who gives council and guidance. In my book Voodoo and Afro-Caribbean Paganism I write " Leading the group on the earthly plane is Obatala. This Orisha is the androgynous father/mother of peace and purity. He is the ashe of the clouds. His ritual symbols are the elephant, the snail, the dove, silver, and cotton. His clothes and other items are usually pure white, as the progenitor of both the planet and peace. "
Associated with the Virgin de las Mercedes, the feast of Obatala is set on September 24th. The Yoruba Religious Concepts website features a wealth of information about this glorious king:
TO speak of Obatala is to talk of the soul and spirit. To name the father of all humanity He is the love and the guide to its Maximum expression.
His name is divided by words OBBA- translated to Powerful King … and TALA : spilled , extension, expansion.
Together the two words become OBATALA, King of all the santos.
He is also called by many names … example : ORISHA POPO ( orisha that works with Clay) and ORISHA ALA MORERE ( the orisha that possesses the clay ) . These last two names are associated with the myths that describe Obatala as the creator of the first man and woman of clay . Other names that are given to Obatala
Orisa ojenia: the orisha that made and created life and existence to mankind.
ALA baniase: He who gives fourth and takes This name given for his great powers.
Orisana : the great orisha
OBA ba arubo: the ancient father king or the father of the gray beard.
Orisa Gisbiniki: The Great and Understanding King Orisha .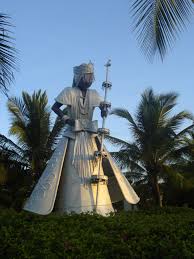 The site is also full of great information about Yoruba cosmology, which can be quite complex. If you are thinking of leaving an offering for Obatala the following are some suggestions to get you started. Please remember Obatala never takes alcohol, so be sure not to be drinking, or to have liquor in the immediate area.
Offerings For Obatala
Copal
Cotton
Cascarilla
Cocoa Butter
White Yams
White Flowers
Coconut Milk
If you would like even more information about please see my post Feast Of Obatala. Many, including myself, are calling for Obatala's feast day as a time to pray for peace,justice and calm in the world. Please join me in lighting a candle this September 24th to help bring a shining light of peace to everywhere it is needed. And if you have enjoyed what you read here please remember to share, share, share !