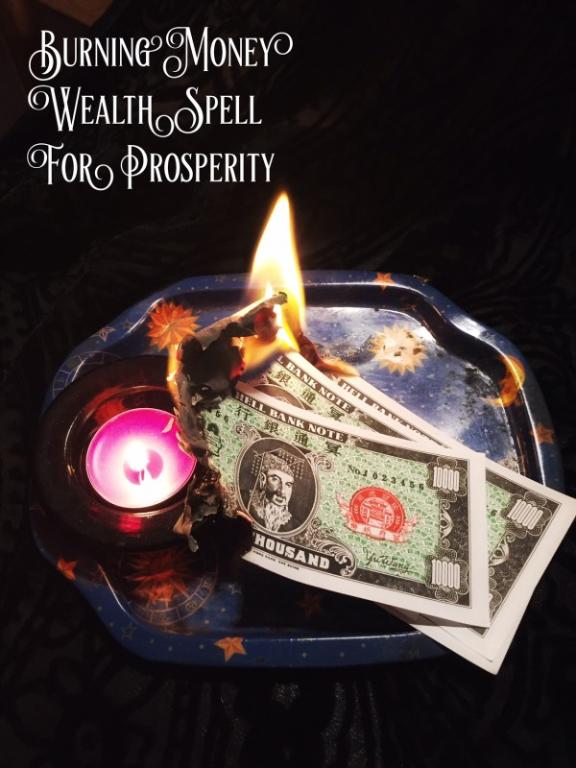 Many of us, myself included, consider ourselves would-be entrepreneurs, unfortunately very few of us have the seven figure incomes to back it up. The following money spell will help you to gain control of the energy surrounding you and your cash, and help you be more financially successful all the way to the bank.
One of the first things you may need to tackle is your attitude about money. As someone who was raised by grandparents who lived through the depression, and parents who understood and lived through a hippy and yippie culture , this is something I often think about. These attitudes often placed money as something unattainable or evil. The money spell here will enlist the help of the ancestors to heal your attitude about, and connection to money.
Using money, either torn or burnt, is a popular tactic in many Hoodoo spells. Burning money however is also part of an ancient Chinese tradition which dates back to the 1600s or earlier. "Hell money" or "spirit money" is burnt at gravesides and during funerals to make sure the ancestors are prosperous in the afterlife. Here in NYC you can find such notes with a little luck and careful searching, if they don't have them in your area you can use a regular dollar bill.
Burning Money Healing Spell
– In a blend of sympathetic magic and Hoodoo this money spell uses torn up pieces of dollar bills to help attract money. It is best performed on the waxing moon. 
1 pinch graveyard dirt (preferably from your ancestors)
3 drops frankincense
1 torn up hell money note or dollar bill
1 red tea light
Small red bag
3 new pennies
1 Tablespoon parsley
1 Tablespoon coffee
Small bowl
Assemble all ingredients on your working altar, or a clean and blessed space. Place graveyard dirt, pennies, parsley, and coffee in the small bowl. Place 2 drops of frankincense oil in the bowl. Mix ingredients together thoroughly. Place one drop of frankincense on the red tea lite candle and lite it. Place one very small piece of dollar bill in the candle. Put the rest in the bowl. Fill the bag with the contents of the bowl. Put the bag in front of the candle and picture all your blocks to financial success burning away. Focus and be thankful for all that you do have. When the candle has burnt out take the bag and carry it in your pocket for one week. Then dispose of the bag by tossing it in running water ( like a river or ocean.) You should begin to see a speedy change in your finances.