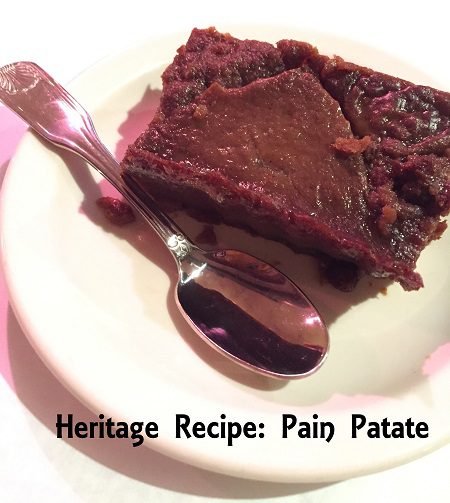 In Haitian households a Pain Patate recipe is a time honored heritage tradition. The great thing about heritage recipes is that you can make them at anytime. You can cook them up for an ancestor or family celebration, or just to add a little bit of history to your everyday table. Obviously this is a great recipe to make for Kwanzaa, Samhain or Haitian Independence Day (January 1st.)
Even though Pain Patate is a traditional food, most people outside of Haiti are not familiar with it. The recipe combines white sweet potatoes (don't use orange ones,) bananas, and coconut to make a delicious treat. It also makes use of tropical spices and flavors- like cinnamon and lime.
Pain Patate Recipe
2 lbs. White Sweet Potatoes (peeled and grated)
2 ripe bananas (peeled and sliced)
1/2 cup raisins
1 cup Brown sugar
1 tsp. grated ginger
1/2 tsp. grated lime zest
1/4 tsp. salt
12 oz. evaporated milk
1 1/2 cups coconut milk
1 tsp. vanilla extract
1/2 tsp. grated nutmeg
1 tsp. ground cinnamon
3 tbs. melted butter
Heat your oven to 375 degrees. Grease a 9 by 13 inch pan with butter. Mash the bananas together in a large bowl with the grated sweet potato. Next add the raisins, brown sugar, and the remaining ingredients one at a time. Mix well after each new addition. Spread the mixture evenly in your pan and bake. Cook for 80-90 minutes. Test with a toothpick to make sure your Pain Patate is done. You can cool for 10 minutes and serve warm with whipped cream. But some people believe this only gets better with time, so you can also try cooling the recipe for up to 24 hours in the refrigerator and serving with ice cream and/or rum sauce.
Thanks for reading and enjoy ! Please let me know in the comments below if you try this recipe? Let me know if it's different than the one your used to? Or just let me know your favorite Kwanzaa recipe for this time of year? And don't forget to share this post, just like you share this food !