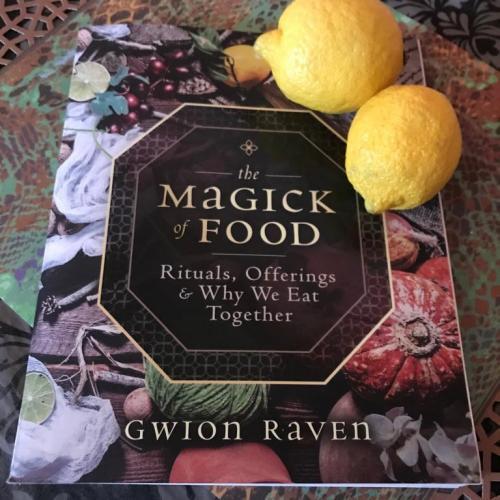 I've always been a Kitchen Witch so when I heard about Gwion Raven's new book The Magick of Food, I couldn't wait to see it. I grew up cooking at the feet of my foremothers, and I truly believe food is magick, genuine nourishment for the mind, body, and soul.
Under the circumstances, many of us are rediscovering our kitchens right now. I have one good friend who called me yesterday excited to share that he had found a new way to cook zucchini. It was a nice reminder that magick can be as close as your kitchen. Raven's book shows us the magick of all different types of food, and also the ways of sharing and eating it.
One of the delightful things about The Magick of Food is that it not only provides rituals and recipes, but history and lore to help you shape your own kitchen adventures. There are so many recipes that excite me here. The first that caught my eye was the one for Kykeon. This Greek beverage Raven tells us is akin to horchata, and was enjoyed as the Coca-Cola of it's day. It features lemon juice, honey, mint, and barley. Here it is used as an offering to Demeter, the maternal goddess of the harvest. Kykeon sounds absolutely divine, and I can't wait to try it.
I also can't wait to explore the recipes for magickal midnight margaritas, and honey shortbread for love. But it doesn't stop there, you will find lots of other tasty treats and innovative ideas here in this book. As the pages unfold we are taken on a magickal mystery tour of culinary delights. I highly recommend these ritual recipes for beginning and advanced cooks alike.
Gwion Raven is a self described "Tattooed Pagan, Author, Cook, Musician, Teacher, and Lover of the sensuous and divine!" Visit his webiste at www.GwionRaven.com for more information.
Today in my kitchen I'm making golden mashed potatoes, my favorite upscaled coconut chicken, and maybe a few more things by the time the day is through. What are you cooking up ? I would love to hear about it in the comments below. As always if you have enjoyed what you read here please remember to like, comment, and share !