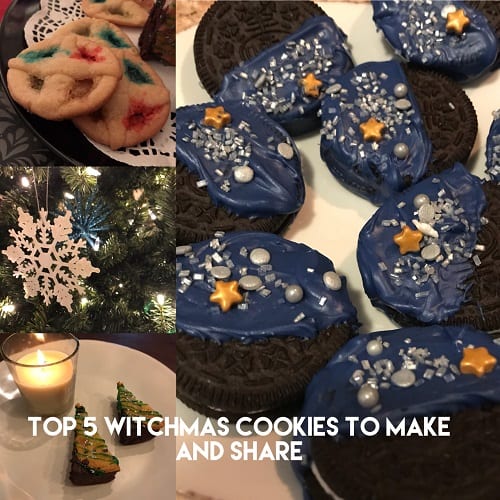 Some of us witches celebrate Samhain, or Halloween, year round and why should the Yule season be any different. I've heard people call it Witchmas, and with Witchmas cookies like Santa skeletons, nightmares before Christmas, pentagram pinwheels, half moon dips, and ginger dead men, what's not to love.
I'm a die hard kitchen witch (yes that's a pun,) and regular readers know that my magickal recipes are one of the things I love to showcase on this blog. Yule recipes are the best, they make me nostalgic for all the baking I did when I was little and when my girls were little too. It has been my pleasure to feature some of these over the years.  If you haven't seen it already please check out my 10 Easy Holiday Recipes for Pagans and my WTF is Winter Wassail posts.
I've already spent a great deal of this holiday season baking, watching every Xmas cookie show on TV, and racking my brains to recall the best and most beautiful Yule cookies I've enjoyed over the years. I decided to gather them here for you to make and share this holiday season. And now for the cookies ….
Top 5 Witchmas Cookies
Ginger Dead Men – The minute I saw these Witchmas cookies I fell in love. I'm one of those people who have more skulls and skeletons in their house than regular holiday decorations, and I wouldn't have it any other way. You can purchase a ready made dead men cookie cutter or just use a regular ginger bread man cutter and some creative use of icing. If you want to add a bit more Yuletide cheer you can always add a santa hat or some holly with your icing decorations. One of my favorite things about ginger bread is that it is full of magickal spices. Ginger is known to promote luck and success.
Wheel of the Year Windows– I really wanted to include a bright fun cookie in this list that celebrates all the seasons and elements just like we witches do. This cookie uses hard candy in elemental colors to showcase the witchyness.  The following recipe is a take on the classic stained glass window cookies. Be sure to use parchment paper or a liner when you bake these as you can have difficulty removing them from the pan.
Ingredients:
1 cup unsalted butter, softened
1 cup white sugar
Hard Candies colored blue, red, green, and yellow (you can use jolly ranchers or life savers)
3 1/4 cup white flour
1 eggs, beaten
1 1/2 tsp. vanilla extract
1 Tablespoon cream
1 teaspoon baking powder
1/4 teaspoon salt
Preheat your oven to 350 degrees. Begin by sifting your baking powder, salt, and flour together in a large bowl. In a separate bowl mix together you butter and sugar, and beat until it is light and fluffy. Then add the egg, cream, and vanilla. Slowly add your flour mixture, a little at a time until it is combined. Roll out your dough on parchment paper. Then cut out large circles with a glass or cookie cutter. Cut out a smaller circle in the center of these. Place the cookies on a baking sheet covered with parchment paper or a silicone liner.  Then roll out some dough into small strips and use to make an x in the center of your circles. Crush up your hard candies into a fine powder, jolly ranchers work better than life savers, but you can use any hard candy you like. Then fill each of the quarters on the cookie. Use red for fire, blue for water, green for earth, and yellow for air. Then place the cookies in the refrigerator for 10 minutes, this will help with spreading during baking. Then place the cookies in the oven, bake for 8-10 minutes until the cookie begins to brown. Enjoy.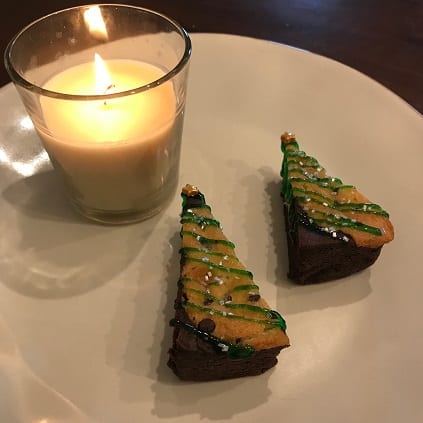 Brownie Yule Trees– For this brownie cookie you can use your favorite recipe, I used my Lilith bites recipe here, or even a mix. The trick about turning them into yule trees is all in the decorating. You will need some easily spreadable green icing and some tiny stars. Cut the brownies into small triangles to represent trees. Drizzle the icing back and forth on a diagonal. Then place a small dab at the top of the triangle for the star. Then place one of your start candies at the top. You can then add whatever other decorations you like, edible glitter, small chocolate candies to represent ornaments, go wild and enjoy !
Half Moon Dips– We witches live and fly by the moon, and this list would be complete without including a nod to that. This cookie is really simple, it's great to use if you want to involve little ones in your witchmas cookies decorating fun. This cookie is a made with oreos, or another kind of chocolate sandwich cookie. You will need blue chocolate melts, and small stars, edible glitter, sprinkles, and whatever other decorations you would like. Melt the chocolate on the stove or in the microwave. Dip the cookies in. Then sprinkle with your decorations. That's it. This is so easy it makes a great holiday treat to make with the kids, just dip the chocolate yourself and let them take over the decorating. Cool completely in the fridge until they are set and then they are ready to enjoy. These cookies are great for Yule when we celebrate the longest night of the year. Side note: they also make great space cookies ( I just made them for a 5 year old Star Wars birthday party.)
Pentagram Spiral Pinwheels– When I was a teenage witch it wasn't like today and there weren't many other witches around. We would identify each other by our pentagram jewelry, and we would know we weren't alone. Stars are already a symbol of Christmas and no Yule celebration would be complete without some pentacle Witchmas cookies. This recipe is really three cookies in one, but the brilliant thing is that you can make one dough and then creatively hack it three different ways. Begin my making a basic sugar cookie recipe. You can use the one below (minus the hard candy,) or even a cookie mix. You will also need a star cookie cutter, some red food coloring, and some crushed up candy cane pieces. Divide the dough into three portions. One portion you will color red, one portion will get mixed with the crushed candy cane pieces, and the last one you will roll out to cut. Roll out this last bit and cut out as many star shaped cookies as you can, these are your pentagrams. Next roll out your red and peppermint dough into long thin strips. Place the peppermint strip on top of the red strip and starting from the end roll it up into a swirl shape. Wrap this rolled log in plastic and refrigerate it for one hour. When it is properly chilled take it out and begin slicing it crosswise. The first piece you cut will be bit lumpy so you can put it in the cook and eat later pile. Then continue to slice the log into 1/4 inch pieces. Then place these on top of the stars you already cut out. What you will have when you are done is a bunch of star cookies with a spiral in the center. Bake for 8-10 minutes until the cookies are a golden brown. Enjoy !
I would love to hear everyone's favorite Yule or Witchmas cookies recipes, you can drop them below.
As always if you have enjoyed what you find here please remember to like, comment, and share ! Happy Holidays !