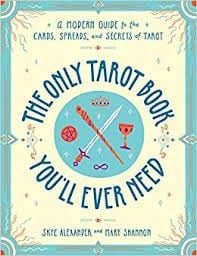 With a title like The Only Tarot Book You'll Ever Need this book sets the bar high. The new book by Skye Alexander and Mary Shannon details meanings of cards and different tarot spreads to try. It provides a strong foundation for anyone beginning their study of the system. The breakdown of card meanings includes things like reversals, and an overview of the suits as a whole, in addition to specific information for each card you may draw. It is both artful and eloquent.
One of my favorite things about this book is it is sprinkled with tiny tarot tips. These are interesting insights and keys that help unlock the complex mysteries of the system. For example in the section about the Star card they write " The Star corresponds to the number seventeen, which in old numerological systems was connected with immortality, hope, intuition, and self-expression. " Divination with tarot is an ancient system and there is much that goes into truly understanding how it functions. The tips provide useful information that can help with these complexities.
The Only Tarot Book You'll Ever Need also includes an all important section on ethics when it comes to doing reading. Any long time reader knows that this is an issue, and ones morality and guidelines should be firmly set, especially before doing readings for others. Personally, feel that doing a reading is an energy exchange and should be treated with respect for all concerned.
Our regular readers know that we are fond of Skye Alexander here on this blog, we even interviewed her in our Divination Space Station series. In it she says " I love the beautiful imagery and how it speaks to the subconscious in such a rich language. I use the tarot to do readings, and draw a card every morning to guide me through the day." This book shares much knowledge. While it may not be the only one you'll ever need in my opinion, but then I have over two dozen books on tarot immediately on hand. I truly think that The Only Tarot Book You'll Ever Need is a welcome addition to any tarot library.
As always if you enjoy what your read here, please remember to like, comment, and share !