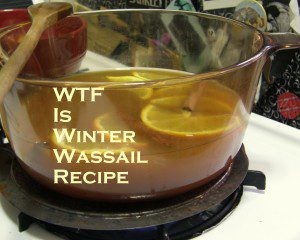 It sounds like it could be a bird  (attacked by a flock of Wassail, )
a plane ( boarding the Wassail on gate 23, )
a superhero ( O Wassail save me!,)
but it's not, so what the f**k is wassail anyway?
The etymology of the word comes from Olde English and literally (like many other toasts) translates to "well health." These are the words of our ancestors. The term began appearing as early as the 8th century, even the poem Beowulf speaks of a "Warriors' Wassail." The word and the customs quickly spread. People would pour out their wassail on their crops to bless and insure continued harvest. It was used as a defense against evil and negativity. Obviously after some has been poured out the rest needs to be drunk and shared with friends. The book The Stations of the Sun by Ronald Hutton references a wassail in which the call was answered with "Drinkhail…and passed to the next of company with a kiss." That sounds exciting.

Wassail goes hand in glove with singing and for many the familiar Yule carols are all they know of the word. One of the most popular traditional songs is the following :
Here We Come A-Wassailing
Here we come a-wassailing
Among the leaves so green,
Here we come a-wand'ring
So fair to be seen.
Love and joy come to you,
And to you your wassail, too,
And God bless you, and send you A Happy New Year,
And God send you a Happy New Year.
Winter Wassail Recipe
No one is genuinely sure what goes into wassail. As people traveled joyfully from house to house they would fill their wassail cup with whatever was handy. For many the word is synonymous with alcohol, but you can make your own non-alcoholic version. Customarily it includes a combination of apple cider and spices, the following is my own concoction to help with your own Wassail !
4 cups apple cider
2 oranges (one juiced and one sliced thinly)
½ cup pineapple juice
3 cinnamon sticks
pinch of nutmeg powder
pinch of powdered cloves
Heat apple cider in a slow cooker or saucpan over low heat. Add juice of one orange, orange slices, cinnamon, nutmeg, and cloves. Stir to combine. Simmer for 20 minutes. Add orange slices. Serve Hot. Cheers or Wassail to you!
This recipe can easily be made into a German Butter Grog, another Yultide treat. My kitchen witch sensibilities loves the idea of adding butter to anything so this recipe is a must. Just add to the above hot Wassail mixture the following ingredients:
1 tbs melted butter
2-4 ounces of Rum
Please be sure to share this delightful Wassail with your loved ones. For more great recipes check out my African-American Ritual Cookbook, limited edition signed copies now available.
So WTF is Wassail ?-  It is a drink, a toast, a kiss, and a blessing … it doesn't get any better than that !