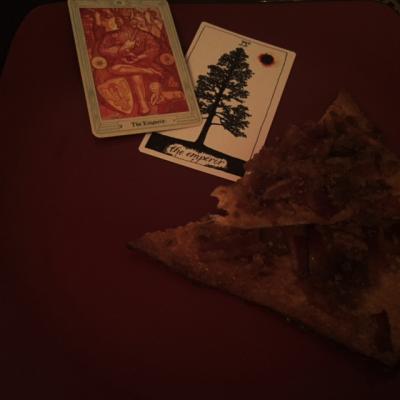 I hope everyone has been watching my Tarot Every Witch Way Food video series. Each week we profile a different card and it's accompanying recipe. This is part of a workshop that I have been offering for years, the next time will be this Saturday August 12th at Tarot Society in Brooklyn. Please come join us, you can register here.
The most recent videos I filmed focus on The Empress and The Emperor. These are two of the most powerful cards in the deck, and they can symbolize feminine and masculine, or Mother and Father. In many ways they represent a polarity, but also a duality which we will explore here.
The Empress Tarot Card
The Empress is numbered 3 in a standard tarot deck. The crystals associated with this card are Rose Quartz, Peridot, Turquoise, and Emerald. She is a card of love, harmony, creativity and nurturing. In her Goddess form she manifests as Venus, Isis, Demeter, Ishtar, Aphrodite, Cybele, and Lilith. This card represents a Mother's love, kind ,gentle, and truly uplifting. This recipe is designed to give you a deeper understanding of the card. Please enjoy !
Foxy Ladies Recipe (formerly Foxy Cleopatras)
3 Tbs. Oil
1/2 cup diced onion
2 Tbs. minced garlic
3 tbs chopped fresh sage
3/4 cup mashed pumpkin
3/4 cup breadcrumbs
1 egg
salt and pepper.
Fry onions, garlic and sage in  Olive oil til browned.  Add this to the rest of ingredients, mix well. Form into balls approximately 1 inch in diameter. Place on lightly greased baking sheet and cook at 375 degrees for 20-25 minutes.
The Emperor Tarot Card
This card is numbered 4 in a standard tarot deck. He is power and ultimate possibility. Associated with Shiva, Osiris, Poseidon, Neptune, and Pluto he takes command in many different realms. Here is authority, permission, creativity, gain, and careful plans. When I was deciding which recipe to make for this video I thought hard, but not long. Bacon, yes bacon was going to be the main ingredient to illustrate the Emperor's power and command.
Maple Bacon Delight Recipe
1 lb. Bacon, cooked
1/4 cup Maple syrup
1/4 cup Brown Sugar
1 package Crescent rolls
Form crescent rolls into a large triangle on a baking sheet. Drizzle with the Maple syrup. Crumble bacon into pieces and sprinkle over the top, do the same with the brown sugar. Bake in a 350 degree oven for 15-20 minutes until it begins to brown. Enjoy.
As always if you have enjoyed what you find here please do us a favor and share, share, share !