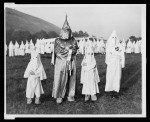 In case you are unaware this has been a weekend of protests, violence, and unrest in Virginia. As reported by NPR :
"Saturday's "Unite the Right" rally promised to "take America back," by demonstrating against the planned removal of a statue of Confederate Gen. Robert E. Lee from a local park.
For hours on Saturday, the white nationalists — some helmeted and carrying shields and Confederate flags — clashed with counterprotesters, some wearing "Black Lives Matter" T-shirts. Hundreds of people threw punches and beat one another with sticks, hurled water bottles and unleashed chemical spray, according to The Associated Press.
During a march by counterprotesters on Saturday afternoon, a car sped through the crowd, mowing down people and killing one woman. She was identified by police as 32-year-old Heather Heyer of Charlottesville.
The impact threw people into the air. Nineteen people were injured. James Alex Fields Jr., a 20-year-old who had moved to Ohio from Kentucky, was taken into custody and has been charged with second-degree murder."
Social media has been awash with statements of sadness and grief following these deaths. I too am filled with pain and tears about the continued aggression of White Supremacist groups, and the indifference it is met with by many in the government. I am fearful to about a world in which things like this continue to happen. While discussing the news with a friend this morning I couldn't help but think about Emmett Till and the Bob Marley "Song of Freedom."
Poem: Where is our Song of Freedom ?
By Lilith Dorsey
How long will they kill our prophets?
How long will they kill our friends?
How long will these things continue…
It feels like there's never an end.
I hope for a better tomorrow
I hope for a brighter song
But I know the day will be long coming
And we may never just get along.
Typed and Erased
I've typed and erased more words than I can count this weekend. I'm surprised my delete key hasn't come off in my hand. Unfortunately I wasn't surprised about events that occurred… my sentiments have been echoed by many people on social media. If you can, do your best to stay safe, here is my post on protection spells for protests.
There is one last thing I'd like to remind people in these next few days, especially people of color.
And as always please if you have benefited from what you find here remember to like, comment, and share !