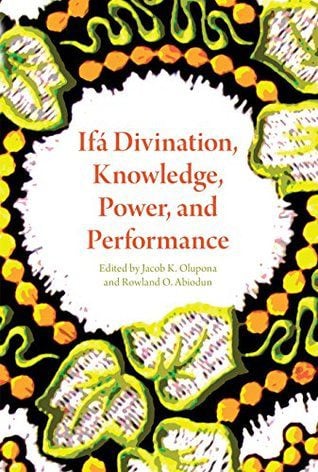 What do we know about Ifá divination as a living system ? What are it's philosophical systems? How does it change with the times ? How does Ifá divination include Islamic tradition ? What is the role of women in the priesthood ? What are the signs and visual clues in the religion ? How is it represented in film ? These are only some of the questions that Ifá divination, Knowledge, Power and Performance explores.
This is an amazing work detailing the conference proceedings from the 2008 Harvard conference. Numerous essays on a wide variety of topics are included.This important volume contains entries by Wande Abimbola, Jacob K. Olupona, Andrew Apter, Olasope O. Oyelaran, Rowland O. Abiodun, Wyatt MacGaffey, Akinwumi Isola, and many others. Editor Jacob K. Olupona is Professor of African Religious Traditions at Harvard Divinity School and Professor of African and African American Studies at Harvard University.
According to the description on Goodreads : "This landmark volume compiled by Jacob K. Olupona and Rowland O. Abiodun brings readers into the diverse world of Ifá—its discourse, ways of thinking, and artistic expression as manifested throughout the Afro-Atlantic. Firmly rooting Ifá within African religious traditions, the essays consider Ifá and Ifá divination from the perspectives of philosophy, performance studies, and cultural studies. They also examine the sacred context, verbal art, and the interpretation of Ifá texts and philosophy. With essays from the most respected scholars in the field, the book makes a substantial contribution toward understanding Ifá and its role in contemporary Yoruba and diaspora cultures."
This book reads like a university textbook. Academic works on Ifá divination are few and far between, to many of us this detailed scholarship is a bonus. Each essay provides new insight on an under-explored and fascinating topic. One of my favorite segments deals with the role of women.
The Role of Women in the Ifá priesthood
In "The Role of Women in the Ifá priesthood" M. Ajisebo McElwaine Abimbola is trying to answer the important question "Is the exclusion of women from the Ifá priesthood a natural phenomenon of Ifá or was it adopted during the course of the horrible history of enslavement of African people? " For those who are unfamiliar there is much resistance, and many prohibitions against women as Ifá priests in North and South America. But these restrictions don't necessarily hold true for practices on the continent of Africa. As detailed in this essay
"according to the Ifá literary corpus, Iyanifa have been a crucial component of the Ifá priesthood since ancient times, and women have been a part of the Yoruba priesthood since Orisa first came to earth from heaven." These revelations hold special meaning for me both as a woman, and as a Priestess in an African Tradition Religion (albeit a different branch.) One of the reasons I became a Voodoo priestess is because this manifestation of the religious tradition allows for more equality and potential for women.
Ifá divination, Knowledge, Power and Performance holds a great deal of insight not only in the essay described above. Each and every one of the entries in this powerful volume is valuable.
As always if you have enjoyed what you find here please remember to kindly like, follow, and share !