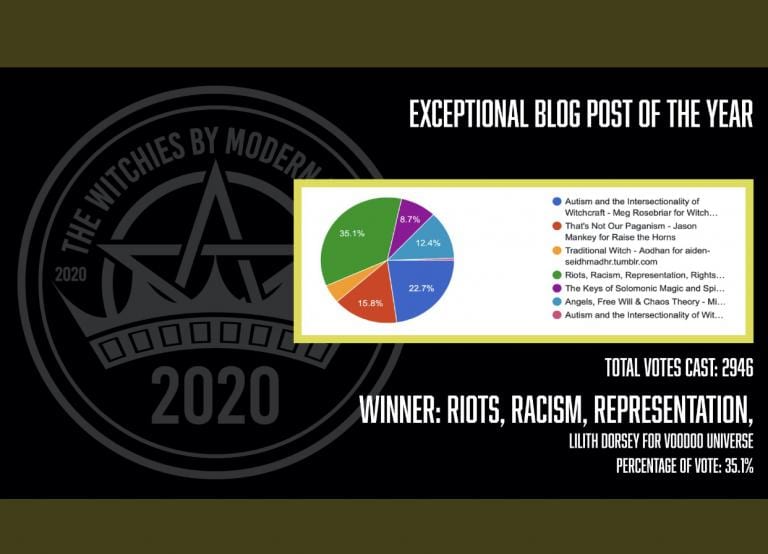 One of the biggest things to hit the Witchcraft community this year was The Witchies awards created by Modern Witch. On the Modern Witch blog Devin Hunter explains " The Witchies are the first awards ceremony to focus on outstanding achievement and excellence in witchcraft and occult media and content creation."
It's phenomenal to me that awards as wide reaching as this haven't been created in the community before. It must have been a huge task gathering all the information for the nominees and tallying thousands of votes.
I hate to have to resort to a cliché but it really was an honor to be nominated for The Witchies, in not just one but three separate categories. My bestselling new book Orishas, Goddesses, and Voodoo Queens was nominated for outstanding book of the year. This blog, Voodoo Universe, which you are reading right now, was nominated for outstanding blog of the year. I started in 2013, and at the time of writing this there are over 660 posts here. Sticktoitiveness has never been one of my virtues (I'm an Aries,) so the fact that these words have survived and thrived is amazing to me. The blog is dedicated to accurate and respectful information about all the African Traditional Religions, and also Witchcraft in all it's many forms.

The final category I was nominated in was Exceptional Blog Post of the Year. The nominated post was titled "Riots, Racism, Representation, Rights, and Reparations… A Rant." I wrote it at 5 in the morning, full of ire and feistiness, the way I do all my best writing. It starts "It's probably a good thing that I am writing this post, because otherwise I would be screaming it. I was interviewed by a young black student yesterday and one of her questions was "When do I write?" I answered that I like to write in the morning, wake before the dawn, down several cups of chicory coffee and let it all flow, but then I added sometimes I write when I just can't keep it inside. This is one of these times. The last story I wrote on this blog was about the pandemic. Several of those that I know and love, including my own family have suffered because of this virus, and if anyone is still paying attention it's going to be around awhile." The entirety of the rant can be found here. The results were announced last night on Mr. Devin Hunter's Twitter feed, with an additional announcement set for today. I won. I honestly can't believe I won for exceptional blog post of the year. Yesterday was a good day all around, we found out that Kamala Harris will be our first Black Woman Vice President of the US. It was definitely a good day to be a Black Woman all around.
My close friends and spiritual family know I rarely win anything. I did win a Hornie award from Jason Mankey on his Patheos blog Raise the Horns. Mankey runs his own awards posted there yearly, which he describes as "mostly random superlatives" that are always a must read. Congratulations to him to on his nomination, and to all my Witchy friends who pulled in a win – Mat Auryn, Thorn Mooney, Paige Vanderbeck, Theitic (lifetime achievement) and all the rest ! It has been a challenging year, and I hope you all savor this win, just as I will.
As always if you have enjoyed what you read here please remember to like, comment and share !