Madame Pamita's Magical Tarot isn't just a book, it is a tool. This special tool allows you to unlock the "adventures" of the cards to make your dreams come true. One of the first things you will notice when you pick up this book as she characterizes the encounters with the cards as adventures.
They are adventures really, journeys that allow you to excitingly experience meaning. Madame Pamita explains how to make the most of these connections using both affirmations and magic. Affirmations she says can come in many forms : sounds, vision, and journaling about tarot.
When asked what happened to make her switch from playing with the cards to becoming a professional reader, Madame Pamita had an interesting response. She says " I spent a lot of time learning the tarot and I began, as most people do, reading for my friends and myself, and referring to a book for interpretations when I wasn't sure what a card meant….I kept my spiritual life pretty hidden. In my public life, I was a musician….Around the early 2000s, I got very into old time music from the 1920s: blues, jazz, and jugband kind of stuff. I taught myself to play ukulele, banjo, and all kinds of weird old instruments. I wanted to have a little vaudville act to play around town and I thought, Well I can read the tarot, why don't I do a medicine show act as an old time fortune teller? and thus Madame Pamita was born."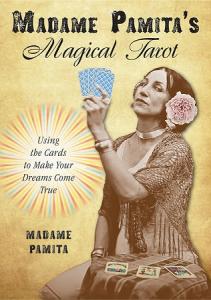 Madame Pamita is a professional tarot reader/scholar and rootworker. She is the owner of
Madame Pamita's Parlour of Wonders
, an old-time spiritualist's shop in Los Angeles. She is a member of Catherine Yronwode's Association of Independent Readers and Rootworkers. Madame Pamita offers tarot readings in her salon, teaches classes in tarot and magic, and creates spiritual-magical tools for transforming lives.
As always if you have enjoyed what you read here please remember to share, share, share !