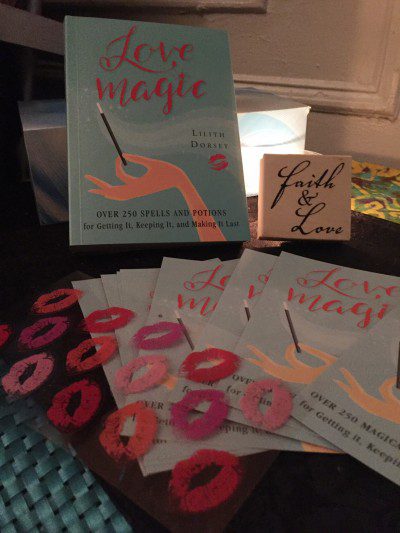 Warning Rant : It has come to my attention that there has been some discussion, behind my back mind you, that people have been talking about my latest book Love Magic and questioning my ethics. I'm not sure these people even looked at my book, but I am sure they are misguided, opportunistic, and that their own ethics and motivations are questionable. If people have a question the honorable thing to do is to talk to me.
Ethics can be a tricky business where magic is concerned, especially when we talk about love. People will do almost anything for love, and sometimes that isn't a good thing.
What Love Magic Is and Isn't
From the very start when I started thinking about writing a book about Love Magic the question of ethics was in the forefront of my mind. In my over 30 years as a professional psychic, witch, and Voodoo Priestess I know that people have very dubious ideas about what magic is and isn't. Many people, likely influenced by Hollywood, think that magick is firmly rooted in control and dominance. We have seen these fictional stories over, and over again, and not just in the media. In Love Magic I tell a story that I have used as a cautionary tale for years when giving advice to my clients. It illustrates the age old maxim "be careful what you wish for." We call this story the "Gotta Have Pat" lesson.
There was a man who was obsessed with his lover Pat. Pat did not return the affections in the way in which the man would have liked. Pat had other lovers, and refused to commit to a serious relationship. The man was heartbroken, and desperate. He did everything he could to have Pat in his life. He got card readings, lit candles, went to every store in the area and tried every love spell available. By the end of this process the man had a giant love altar set up in his home, filled with pictures of Pat, candles, crystals, herbs, jars, and the like. Eventually the two got together. Unfortunately both of them died of AIDS shortly after.
Now don't get me wrong, obviously not everyone who does magic will end up with a tragic result, but I deeply understand how people must be very cautious. I had a client a few months back who came to me for a reading and spellwork after he had broken up with his partner. He asked me upfront what usually happens in these situations. I told him people most often work for what they want, and then aren't happy when they get it. I don't know if it's just part of the human condition, but after a few weeks this gentleman got what he wanted, and was back again to ask for the exact opposite. This is why the Love Magic book I wrote is full of spells to help bring the best possible love to an individual. There are spells for self love, romantic love, and every other kind of love you can think of. There is a lot of information on ethics, and how to proceed responsibly when it comes to love spells. It would be very wrong not to include these things. I urge everyone to practice magic ethically, and to strive for their most highest good. I don't have time for haters and others who want to indulge in bad ideas (either behind my back or under my nose,) life is too short and too beautiful for anything less than great joy.
If you have enjoyed what you read here please remember to share ! We love it !