New Orleans Voodoo is a Gumbo, meaning it incorporates a bit of almost everything to form the delicious magick it manifests. There is much controversy surrounding what good a good gumbo recipe should and shouldn't be.
Get With The Gumbo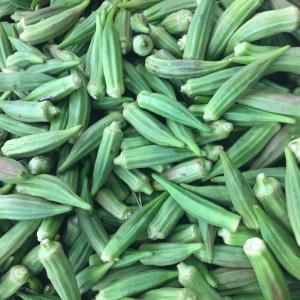 First of all, you can't talk about a gumbo recipe without talking about okra. In fact gumbo is a West African word that actually means okra. In Latin counties okra is called quimbombo, and it is used for protection and invisibility. Its magickal properties are many.  Therefore the internet is full of psychic practitioners using okra in spells for everything from hexing to protecting. Hanging dried okra pods in your doorway will keep bad energy from entering your home.  Alternatively, the slime or jelly that oozes from okra is also said to drive away evil, and can be used to absorb negativity. This stocky vegetable is also sometimes used in binding and love magick. Maybe it's because of the pointy shape, but as a result hoodoo practitioners also use okra for sex magic, spells for making one last longer in bed, and also to keep a lover faithful.
Don't Forget the File
The other necessary ingredient in gumbo is file. File is just a powder of dried sassafras leaves. Just like okra, sassafras (sassafras albidum) has a long history in conjure magick. The plant grows throughout the south, and it was one of the spiritual plants readily available to Africans transplanted to the U.S. Carrying sassafras in your wallet or purse attracts money. While burning it brings about despair. Native to North America this is one of the many plants that is traditionally in use by the continent's indigenous people. In addition they employ the plant in healing remedies.
Sacred Medicines of the Cherokees, a book on Cherokee Shamanistic practices, accordingly tells that " Sassafras was part of a magical and medicinal treatment for children who were cursed by having the shadow of a bird fly over their mothers while they were still in the womb. The medicine consists of a warm decoction of the bark of Sassafras, Flowering Dogwood, Service Berry, and Black Gum with the roots of two wild rose species. The bark is always taken from the east side of the tree as are the roots (growing to the east). The roots and barks are seeped in warm water for four days and then the child is bathed for four days and four nights…. At the end of each treatment, the Shaman then blows the decoction out of his mouth, showering the child, while the child keeps his/her hands out while a prayer is recited. Then the child drinks a bit. " This isn't the only instance of the plant being medicine, and consequently this magickal powder finds its way into numerous healing spells.
New Orleans Voodoo Healing Gumbo Recipe
The following contains healing herbs, along with the traditional ingredients used to make a good N'awlins gumbo recipe. This will serve 18-20 hungry people.
Ingredients:
1 cup flour
3/4 cup bacon fat
large red onion, chopped fine
1 cup celery, chopped fine
large green bell pepper, chopped fine
large red bell pepper, chopped fine
3 cloves garlic, minced
1 lb. andouille sausage, chopped
6 cups beef stock
6 cups water
1/2 tsp. of salt (more to taste)
1/2 tsp. of black pepper
1 Tbs. brown sugar
1-2 Tbs. hot sauce ( we use Siracha, Frank's, or Starr's Wicked)
1 tsp. smoky paprika
1 tsp. creole seasoning ( we use Tony Chachere's)
2 Tbs. onion powder
7 small bay leaves, whole
1/2 tsp. fresh thyme, pulled from stems
1 Tbs. fresh basil, minced
1 Tbs, fresh parsley, minced
14.5 oz can stewed tomatoes
6 oz. can tomato paste
2 tsp. gumbo file
2 Tbs. butter or oil
4 cups okra, sliced
2 Tbs. white vinegar
1 lb. lump crabmeat
2 1/2 lbs. uncooked shrimp, peeled and deveined
First you are going to prepare the roux. Place the bacon fat in a large saucepan over low heat, and whisk in the flour a little at a time. Continue stirring the mixture for about 20 minutes, or until it begins to turn a rich brown color. Don't forget to keep stirring, because this mixture can burn easily. Remove from heat, then add the onion, celery, garlic, peppers, and sausage.
Return to low heat, and simmer for 15 minutes until vegetables are starting to soften. Remove from stove and set aside.
Next in a large soup pot heat beef stock and water over medium heat until boiling. Add the roux in small amounts, stirring continually.
Reduce heat to a simmer and add tomatoes, salt, pepper, hot sauce, and the rest of the spices (except the gumbo file.)  Cook for 60 minutes stirring occasionally, then add gumbo file, and additional salt and pepper to taste.
Meanwhile, cook okra in butter or oil along with the vinegar for 15 minutes. Then drain and add to simmering pot. Next add the vinegar, shrimp and crab.
Finish cooking another 45-60 minutes. Remove whole bay leaves. Lastly, serve over hot white rice. Share with family and friends and enjoy.
This gumbo recipe will put a little healing energy on your table. Furthermore, if you would like more magickal heritage recipes please see the related posts here on Voodoo Universe, and consider my African-American Ritual Cookbook. Finally, if you have enjoyed what you read here please do us a favor and like, comment, and share !