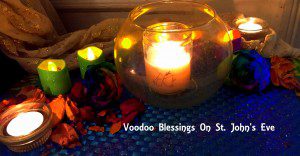 St. John's Eve is the holiest day of the year for practitioners of New Orleans Voodoo. It occurs on June 23rd. The day was particularly sacred for Voodoo Queen Marie Laveau. Laveau performed headwashings, ceremonies, and rituals on St. John's Eve. Fortunately, the legacy of these still live on today.
It is almost as if the soul of Marie Laveau can still be felt on this day. Feasts, rituals, and ceremonies honor her and the drummer and spiritual Dr. John Montanee on St. John's Eve. In case you were wondering drumming and dancing are always on the menu. To find out what's on the calendar please check out the website of the Voodoo Spiritual Temple and the upcoming events section of my page. Even if you can't join us for the festivities, here's a recipe you can use to celebrate on your own.
Marie Laveau Bourbon Bread Pudding
This is one of the many ritual bread pudding recipes in the Voodoo Universe archives.
4 slices sweet bread
1/3 cup goat chevre or cream cheese
1 ¾ cup half and half
3 eggs beaten
1 egg yolk beaten
¼ cup butter
1/2 cup coconut or light brown sugar
3 tbs. Bourbon whiskey
2 tsp. Grated orange peel
1 tsp. Grated lemon peel
2 tbs. Orange juice
½ vanilla bean
2 tbs water
For the Bourbon Sauce: Melt ¼ cup butter in saucepan under low heat. Add ¼ cup sugar, vanilla bean, egg yolk, and 2 tbs. Water. Cook stirring constantly until the sugar dissolves and mixture begins to boil, about 3-4 minutes. Remove from heat. Take out vanilla bean, stir in Bourbon and orange juice. Save for later.
For the Bread Pudding: Preheat oven to 325 degrees. Spread bread with cheese to make two sandwiches. Cut each sandwich into one inch cubes. Place in baking dish. Combine remaining ingredients together, mix well and pour over bread cubes. Bake in oven for 40 minutes or until toothpick inserted into center of dish comes out clean. Remove from oven. Serve while slightly warm, covered with Bourbon sauce and fresh whipped cream.
Have a Blessed St. John's Eve everyone ! Get clean, stay bright, and remember the potential that this time of year holds ! As always if you have enjoy what you read here please remember to share, share, share !