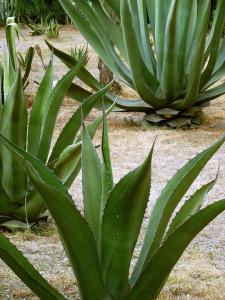 Maguey (Agave spp.) also goes by the names Century plant, Miracle of Nature, Spiked Aloe, and Rattlesnake Master. Most people are familiar with this powerful plant because it is an ingredient used in making tequila. Maguey is native to Mexico, and for some there it is considered the Tree of Life.
In Hoodoo and Conjure this herb is used in spells for passion and lust. You may wish to add some Maguey to your Gris Gris bags to bring sensual and lustful energy to your life and relationships. Some other useful herbs and oils to add if this is your desired intent would be patchouly, passion flower, hibiscus, ylang ylang, musk, vanilla, and red roses.
To flip the switch a little bit, the thorns of Maguey are also used in hexing and controlling spells. Some people also use the thorns in magick where they are attempting to set boundaries. An 1895 issue of the Journal of American Folk-lore tells of how legend says that there are ghostly phantoms that are said to appear to individuals giving them magick Agave thorns, these were said to bestow bravery, courage and strength. Another way the plant can be used is with the leaves. These are known to have healing properties but are also useful for writing or carving candles. Be careful though this plant can be toxic.
Santa Muerte is also very partial to Maguey as an offering. They are used in spells for her both as a single ingredient, and also in pulque and tequila. For more information about using this for the Bony Lady consider taking a look at Devoted to Death: Santa Muerte, The Skeleton Saint by Andrew Chestnut.
This post is only one in our extensive Herbal Magic series, please take a look. As always if you have enjoyed what you read here please remember to like, comment and share !