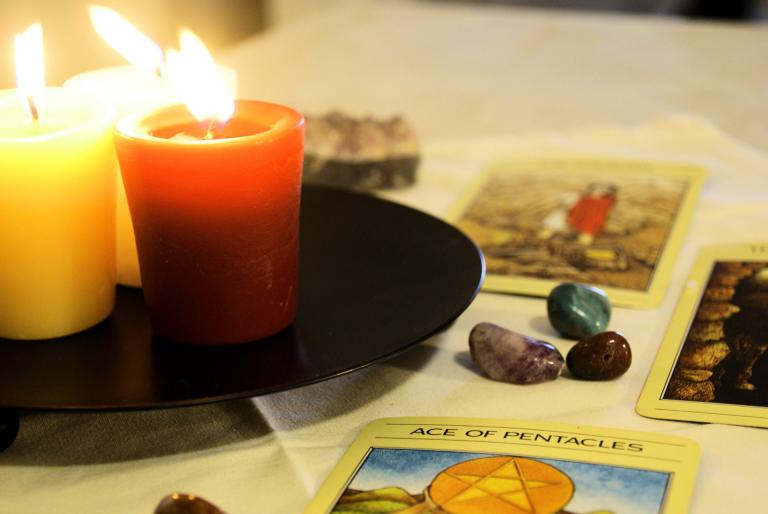 You could be a long time Tarot Reader, or one who just began yesterday, in either case from time to time you will need to go through the process of birthing a new Tarot Deck. Most readers that I know have more than one deck, some even have a collection numbering in the hundreds. Birthing a new deck is only the first step in a long life of caring and feeding for your cards, as I like to call it. The process can be as complex or as simple as you would like to make it. You can use any, or all of the following methods as you birth your tarot deck into the world.
Consider getting a special bag or box to place your cards in. This could be something in the a psychic power color like purple, or one inscribed with symbols or sigils that will help to charge and energize your cards.
Some readers like to put their new deck under their pillow on the night of the full moon to bond the deck and the reader  together.
You may wish to create a crystal grid as part of a ritual to birth your deck. Consider setting stones like Amethyst,Carnelian, Iolite, Lapis, Jasper, Moonstone, or Quartz in a square or star pattern, then setting your new cards in the center. The square will help to focus the energies of the crystals into the gods, while the star is based on a pentacle, which will allow you to invoke all the elements when charging up your new deck. Leave them there inside the crystal shape at least overnight. For more about crystals and tarot please see my post How to Improve Your Tarot Reading With Crystals.
Another way to charge your cards and birth them into magickal existence is to leave them overnight on your altar or shrine. You could choose to place them on your ancestor altar, or even on your own personal altar or shrine.

Many people choose to do the initial blessing of their cards with the element of air. You could use a smudge stick, palo santo, or other type of incense. However please be mindful of the type of cleansing you are doing, the sage in certain smudge sticks can cause problems for pregnant or nursing mothers, and palo santo  has been heavily harvested and is now classified by some environmental organizations as threatened. Whichever type of sacred smoke you use be sure to past the smoke over and around the cards, first in a counterclockwise circle then in a clockwise one.
Some readers even suggest birthing your deck with food. This involves cooking your favorite meal, setting a table with a place for you and one for the deck, place a small amount of food in front of the deck and a normal amount on your own. Share this meal with your deck, sitting with it while you eat. When you are done bury the portion that was in front of the deck. This symbolizes a sharing between you and the cards.
These are some ways to bless your new tarot deck, I would love to hear your methods, please leave them in the comments below.
As always, if you have enjoyed what you read here please remember to like, comment, and share !