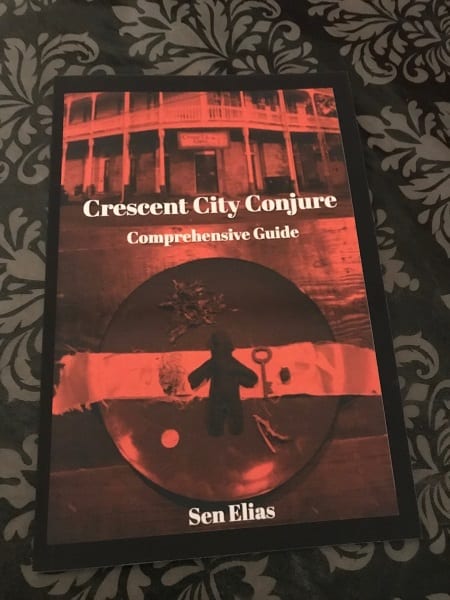 The Crescent City Conjure Comprehensive Guide by Sen Elias is one of the most useful books I've seen in years. This handy guide gives detailed instructions on how to work with all the spiritual products that they offer in the Crescent City Conjure Store, located at 2402 Royal St., New Orleans.
There are only a handful of practitioners who I wholeheartedly recommend their supplies and magick, and Sen Elias is definitely one of them. The guide opens with a short history of Hoodoo, aka Conjure or Root Work. One of my favorite parts of this book is the description about 4 Thieves Vinegar. It talks about Tolouse and the Black Plague proving that the history of this product is as mysterious and exotic as it is powerful.
In the Crescent City Conjure Comprehensive Guide you will find information about common hoodoo terms, candles, oils, gris-gris (" a little spirit companion that has the ability to assist in a desired goal,") spiritual baths, spiritual soaps, and conjure powders. There is even a segment dedicated to curious curios. Here are all the conjure creations our Foremamas knew, even if they didn't speak about them often. There are crossed coffin nails, chicken foot charms, and railroad spikes.
Next time you are in New Orleans I hope you have a chance to visit the physical store. Or even better if you wish to order online check them out at crescentcityconjure.us There a whisper going around that Sen Elias will soon release a more comprehensive book, which this tome tells us is tentatively titled " Hoodoo Instructions." Honestly, I just can't wait.
I can't finish off this post without mention if you want to see both Sen Elias and myself in the same place, we will both be presenting online at this year's Hexfest 2020 – A Weekend of Witchery in New Orleans. I hope to see you there.
As always if you have enjoyed this review, and the other posts your read here please remember to like, comment, and share.