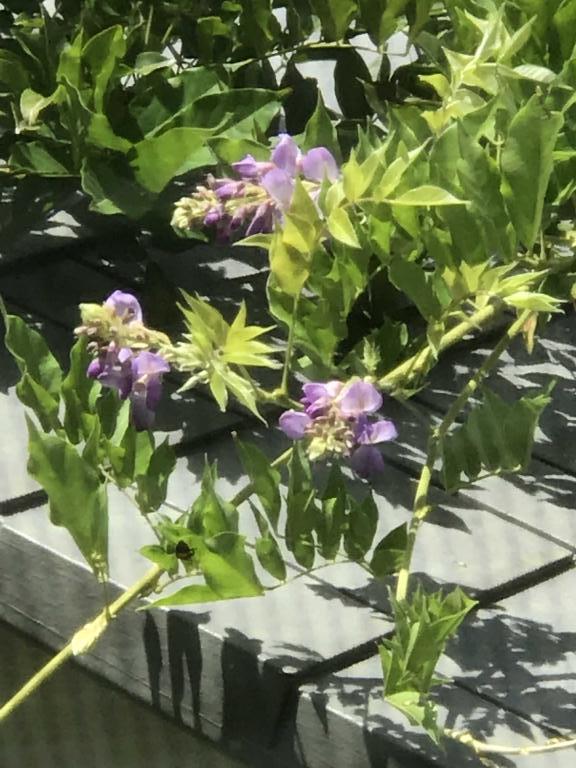 Wisteria has always been one of my favorite flowers. It presents like a glorious waterfall of delightful purple blooms cascading from it's weeping branches. As many of you know I have recently moved to New Orleans, and life in the swamp has been challenging. I haven't been able to have a garden for a very long time. Much of my work since I arrived has been spent on carving out the wild space I landed on. Initially I began by taking back the overgrown small strip of land that leads to the backyard. Yes, I put down cardboard, and weed membrane, and mulch, and rocks…. This isn't my first rodeo (in fact my minor in college was plant science.) Then I started to clip back the weeds. Now I know a weed is any unwanted plant, and there were many aggressive intruders coming from the other side of the fence.
Then the other day I spied some early summer blooms, and I realized what was crossing the divide to come and greet me. It was Wisteria. The magickal properties of wisteria are many, I recommend using the blooms very carefully in your workings as they are toxic to humans and animals. Unfortunately, almost all commercial oil formulas for wisteria are synthetic based. My favorite way to use them in ritual is to simply place a bouquet on the altar or shrine.
Magickal Properties of Wisteria-
Beauty
Grace
Self-love
Emotional Healing
Intelligence
Wisdom
Inspiration
Prosperity
New Beginnings
Longevity
The most popular connotation for Wisteria is longevity. The reason for this is that the plant is known to live for a very long time. Some trees are over a hundred years old, and one in Japan is said to have been thriving for 1200 years. Considering planting some as a symbol of elegance and permanence.
Growing Wisteria
Wisteria is known to do well in zones 4-9. It does best in full or partial sun, and tolerates a wide variety of soils. If you are wondering which type to plant almanac.com tells us "Chinese wisteria (Wisteria sinensis) and Japanese wisteria (Wisteria floribunda) are not native to North America and are considered invasive species in some states. The native wisteria species, American wisteria (Wisteria frutescens) and Kentucky wisteria (Wisteria macrostachya), are great alternatives to the Asian species, so if you're planning on adding a new wisteria to your garden, we suggest that you go with one of the North American species."
Caution: All parts of the Wisteria plant are toxic to humans and pets, please do not ingest.
Be sure to check out the other Herb Magick posts on this blog, for information about Willow, Ginger, Vanilla, Chicory, and more. As always if you have enjoyed what you read here please remember to like, comment, and share !