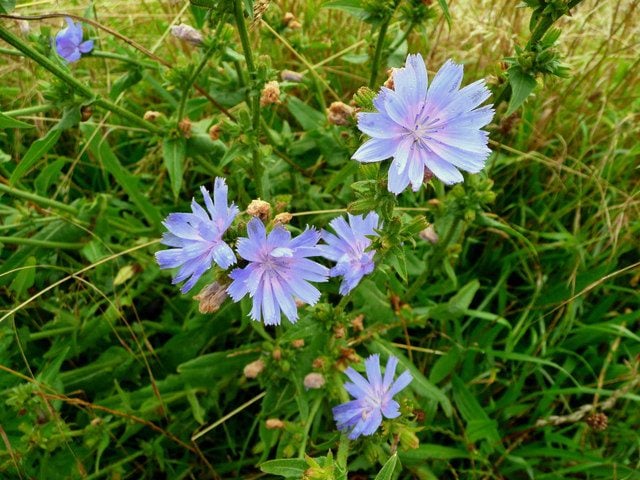 A rabbit sneeze on the morning breeze sets homesick hearts aglow sitting with his rumps in a chicory clump and longing for a nice plump doe. — Richard Adams
Chicory is one wonderful magickal edible. Growing just about anywhere, this herb is very hardy. It is found growing in Europe, Africa, America, and Australia and New Zealand. Also called succory, coffeeweed, and blue sailors, it has been used for its healing properties for almost 5,000 years. Over the years it has developed quite a reputation in Folklore and Mythology.
Chicory Lore
Put a piece in your pocket to help you get over past relationships
Chicory is one of the traditional herbs for Passover
Offerings of Chicory are said to remove barriers and obstacles
Greek mythology associated this herb with the nympth Clytia, lover of Apollo
The most magickal time for collection of this plant is said to be St. Peter's Day – June 29th
In New Orleans Voodoo we know all about chicory. We use it our magick, and very importantly, in our coffee. In my post New Orleans Ritual Voodoo Coffee I write " There are many different ritual coffee drinks used around the Afro-Diasporan world. Many of these are alcoholic and are used both as offerings to the Lwa, and fortification for the worshippers. This one is great for honoring the ancestors at Halloween, or Samhain. The following recipe is dedicated to my dear friends at the Voodoo Spiritual Temple (1428 N. Rampart st.) in New Orleans, and the coffeehouse Voobrew Café which used to be next door to the original location." Then I give the following recipe :
Ingredients:
1 large cup dark roast coffee with chicory
1 dash light cream
1 pinch cinnamon
1 pinch nutmeg
1 dash dark rum ( we prefer Barbancourt)
1 tsp. cocoa powder
Mix all ingredients together. Enjoy !
Please tell me your favorite uses for this herb below. As always if you have enjoyed anything you have read here please remember to like, comment, and share this post !