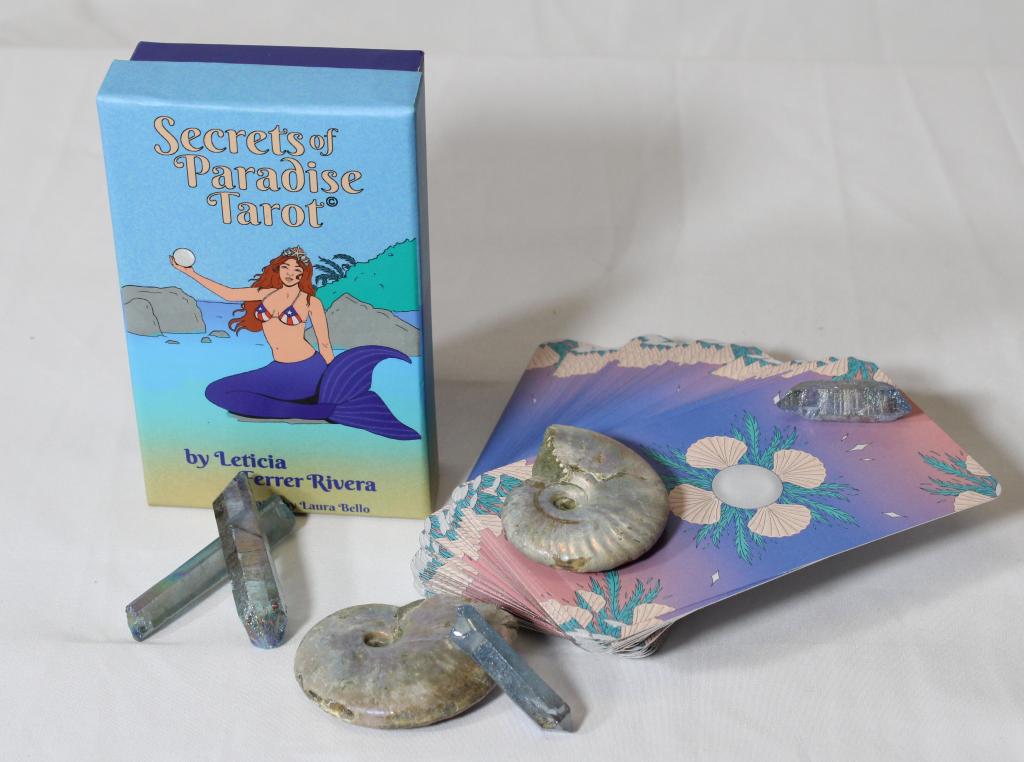 It's been awhile since we have featured a new installment of Divination Space Station, but when I saw the new Secrets of Paradise Tarot by Leticia, The Witchy Dancer I knew I had to find out more. Leticia Ferrer-Rivera, The Witchy Dancer! is the owner of Dancing Crowns. She is Certified as Tarot and Crystal Healer. She does divination and Psychic Readings using the Pendulum, Tarot, and Crystals. Leticia is also a Wicca High Priestess and comes from a long generation of Witchcraft and Mediums on both sides of her family, especially from the Ferrer side from Barcelona, Spain. Here's what she had to say (all responses come directly from her):
When did you start divining?
When I was 7 years of age I started to have clairvoyant dreams showing me the related person in the event that was going to happen very soon. For example, I remember dreaming that my mother was going to have her car stolen from one of the big shopping malls in Puerto Rico, and actually it was my aunt (her sister) who had her car stolen from the mall parking lot. As an adult, around 2004, I started learning Tarot and Pendulum on my own. That was the start of a big spiritual change in my life and was about a year before getting initiated as a High Priestess in a very intimate Coven in Puerto Rico. I loved both methods from the get-go.
With what method?
Tarot and Pendulum were my first methods of divination. It is ironic because I played Briscas (Spanish Cards) all my life and saw them as fun, instead of as a divination tool. So I kept using Tarot and Pendulum, and I incorporated Crystals Casting and Oracles back in 2017.
Which method do you use most often now?
I use Tarot, Pendulum, and Crystals more often, but I can also pull out an Oracle Card at the end of a reading sometimes for extra insight.
How important is the choice/phrasing of the question?
It is important to ask the right question and to be specific. The question must not just be about another person alone, but your situation, your relationship, you must be included in the question. This way the outcome has a message for you directly on how this is impacting you, and also guidance on how to proceed.
It is also super important to choose the correct method of divination when you know what type of reading the querent is looking for. It has higher probabilities for me as a Reader and Psychic to deliver the appropriate message throughout and at the end of the reading. It is important to know which method can be used for what type of reading, but also, within the method which card deck or which pendulum to use as well. I have Tarot Decks that are perfect for business readings, others for love readings, others for any kind of readings, and the same with the pendulums based on the type of crystal they are made, wooden pendulums, metal, etc. It takes not only your intuition and skills for choosing the right tool, but also studying each method and crystal is important.
Do you have a yes/no method of divining you recommend?
I love Pendulum for a Yes or No answer. However, I also use it for multiple-choice, dates, and confirming time frames. I use it for Crystal Healing too.
Is there any advice you have for newcomers when using divination?
– To study each method from trusted and reliable sources.
– To not learn more than two methods at the same time.
– To understand if you want to be a Tarot Reader or if you want to work with intuition, spirit, and the Divine for developing your Psychic or Mediumship abilities. This is a big decision to make.
– Do not choose an easy method you are not tuning with just because it is easier, push yourself to study and connect with the method you really like.
– Buy your decks from trusted sources and support authors, Tarot and Oracle creators, and trusted businesses online and locally. Do not buy counterfeit decks from Wish! This type of practice hurt us all and believe me, your counterfeit deck will not work with you with the same energy as the one bought from their creator or publisher.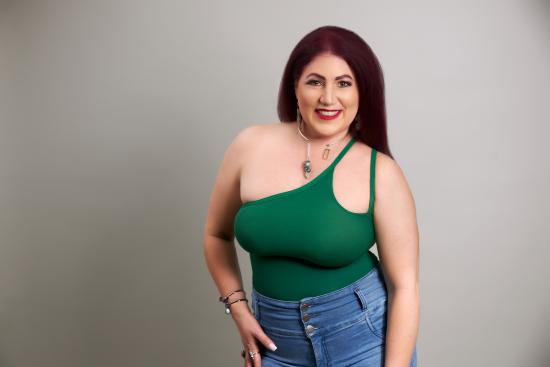 I'm absolutely in awe of your Secrets of Paradise Tarot? What was your inspiration for the deck, and how do people get one?
One day I asked my husband to take a picture of me in front of one of our Lilacs from our backyard. I placed a chair in front, grabbed one of the branches that needed to be cut, and sat on the chair. When I saw the picture I said… This is the Queen of Wands! It was not intended to look like a Tarot card, but it did. That was the first card I created, but from there I created the rest of the cards combining my expertise from the performing arts and the culture with my knowledge from the Tarot. In 600 years of Tarot History, there are several Hispanic Tarot Creators and several Tarot Decks with names related to the Spanish language, but none of them has illustrations, deities, and symbolism from the Caribbean and Latin America. That was the main reason I created it, I love that this deck is going to make history once is published. From the Taínos to our African Heritage, as well as our music, dances, food, and historical places, this deck includes new symbols that have never been on a divination card deck before, as well as some traditional symbols that are based on the Waite-Coleman Smith Tarot. Secrets of Paradise Tarot: A Caribbean and Latin American Approach to Symbolism and Divination is right now submitted as traditional publishing proposals to my two favorite big traditional publishers. One will be answering sometime soon and the other I am not sure how long they take for the response, but hopefully soon. (Update: During the writing of the post word arrived that the deck will be published by Hay House ! Congratulations and more updates to follow!)  I want to take this opportunity to invite everyone to sign up for the newsletter at www.dancingcrownspsychic.com so you can all get invited to the themed Launch Party I am planning to do once it is available for purchase.
Are there any new projects you are developing?
Yes, I am always creating. Besides everything I do I am currently teaching to a group of women a pilot course called Sacred Geometry in Dance that I designed myself. I am also working already on my Mysteries of the Spanish Fan Oracle. That is my next big project. I will be opening two new courses in Crystals and Tarot so stay tuned! Sign up for the newsletter to receive all this information via email and before anyone else!
As always if you have enjoyed what you read here please remember to like, comment, and share !