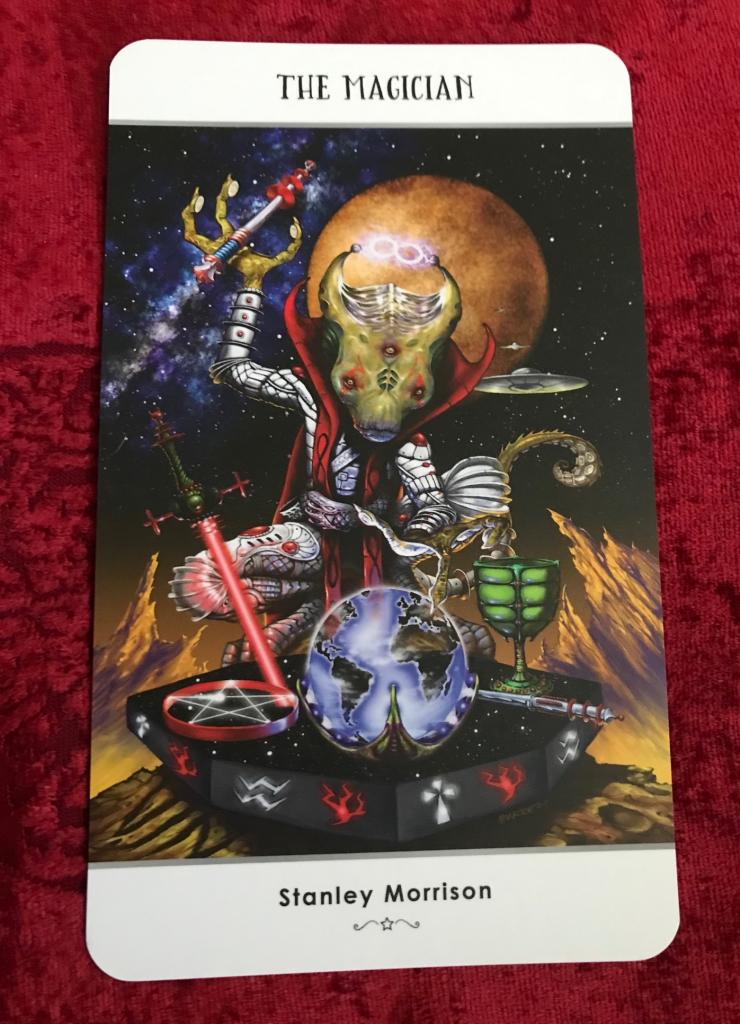 This is a review of The 78 Tarot Project's deck Astral Tarot. The 78 Tarot Project states as it's mission " to create beautiful, meaningful decks. We work with some of the best artists in the community and strive to invite diverse artists and produce decks that do not show cultural appropriation, only appreciation. We vow to continue improving, to continue listening to our fans and critics and to include diverse races, religions, sexual identities and ages, so that every user can connect to our decks." The following is a guest post by professional tarot reader Little Luna.
Recently, my good friend and Godmother Lilith Dorsey gave me 78 Tarot's Global Art Collaboration: Astral Tarot in Space and offered me the opportunity to review it here, which I'm more than pleased to do.
Every year the 78 Tarot Project chooses a theme and collaborates with 78 artists who each create one of the 78 cards of the Tarot. This limited edition deck contains 3 wild cards, which offer added insight.
I wanted to test the deck out to see how it read both privately and in party situations, so I took these cards with me to an event for students at Dillard University recently and used them with clients for a week. The first thing that stands out of course is the lusciously ethereal artwork — which is a pleasure for both reader and client and immediately sparks conversation. Many times, the imagery of the Tarot can incite fear in our clients which can prevent them from really listening to the message of their reading. To be clear, I'm not saying that won't happen with this deck, which contains astral visions of alien occultists, robot battles and spaced out cats, but for me, each vivid illustration brings about a sense of wonder more than fear, without losing the Tarot's challenge and mystery.
Art and the Tarot go hand in hand and I appreciate that each participant studies their card extensively so that the esoteric language remains intact and recognizable, while providing modern visions of these archetypes. The one criticism I've heard about collaborative decks like this one is that they can lack cohesiveness because of the difference in artistic style. However, The Astral Tarot, is thoughtfully curated both visually and thematically. This deck has something for everyone. The images range from adorably weird to a little scary, which is all right up my alley. My favorite cards so far are the Pages, The Fool and The Magician. For me It's so enjoyable to be able to look through the eyes of these various creators whose different visions expand my own understanding and bring to life the greater story of the Tarot. The accompanying booklet also contains a statement by each artist as well as each card's overall message written by Trish Sullivan.
Overall I'm really enjoying the Astral Tarot both visually and psychically. This unique deck would make a great gift for any psychedelic space loving Tarot enthusiast in your life.
Little Luna is a hairdresser, former burlesque entertainer/producer and professional Tarot reader in New Orleans, LA. She's is a Native New Mexican, whose spiritual inspirations are heavily influenced by her Southwestern Spanish and Pueblo ancestry. Also inspired by Folk Magic, Eastern mythologies, and shadow transformation using art, performance & music, she holds a Bachelor's in Religious Studies from Towson University. From 2014-2019 she hosted a Tarot inspired radio show called "The Major Arcana Music Show" on NOLA's public justice radio station, WHIV FM. Luna has been professionally divining cards for over a decade specializing in Tarot, Mah Jongg, and playing cards. She has read for a wide variety of large scale events and professional venues including Voodoo Fest, House Of Blues New Orleans, LSU Championship Pre-game, The Creole Queen, Mardi Gras World, Dillard University and many more. You may contact her via her website snakeoiltarot.com