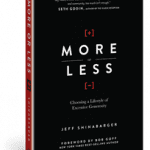 I just finished reading the wonderful More or Less, Choosing a Lifestyle of Excessive Generosity, by Jeff Shinabarger. But before I discuss this book, I'd like to start off with an anecdote.
The motivational author Napoleon Hill, best known for his book "Think and Grow Rich", is one of my all-time favorite inspirational writers. Hill was at a public event once when a woman approached him and said that while she appreciated his writing, she was disappointed that he didn't mention God more in his books. His response went something like this:
Oh, but God is there in my books. He's in the spaces between the lines.
My sentiments exactly about the inspiring More Or Less—because while Shinabarger makes little direct mention of God or his Christian faith (a fact he has been criticized for in some quarters), the spirit of kindness and compassion that permeates this book reflects the teachings of Jesus better than a month's worth of Sunday sermons.
The author's approach to life might be best explained by a quote he includes in the book by the English writer and philosopher G. K. Chesteron:
There are two ways to get enough: one is to continue to accumulate more and more. The other is to desire less.
As you might have surmised, Shinabarger is squarely in the second camp and lays out well-reasoned, often persuasive arguments on why most of us have more than we actually need. He then challenges you, the reader, to figure out for yourself "what is enough?" and what you can live without.
One of Shinabarger's most fascinating observations is how we've changed as a culture when asked the question "How are you?" For a long time, the answer you heard most often was "I'm fine", but over the past few years the response "I'm busy" has taken its place. Busy has become the new fine! (Anyone working a 40-plus hour workweek can relate.)
This "busy-ness" has kept us from being fully present to the world around us, as we fill-up our down time with more and more activities and our homes with more and more stuff. So what the author would like us to do is slow down, take a breath, and focus on the way we live. Shinabarger has done just that and taken a close look at the excesses in his own life—and in turn, ours—and suggests how we can transform those excesses into a greater good for the less fortunate around us.
Almost every chapter is devoted to different ways you can help and for me some of the ideas really resonated. A few of the passages that stood-out had me asking myself:
Do I have enough or too much clothing? (Tip: if you haven't worn it in the past year, give it away.)
Is there a $50-plus item in my home I don't really use that I can sell and donate the proceeds to charity? (Think electronics, lamps, furniture.)
Am I sitting on gift cards that haven't been totally used up that I really don't need? (See Shinabarger's brilliant solution at the Web site Gift Card Giver.)
The bottom line: If you're not sure how you can help the less fortunate around you, here's a book that says you can and shows you how. It's an inspiring read that will get you thinking—and doing. More or Less is one of those rare books that can get you looking at life a whole new way. I highly recommend it.