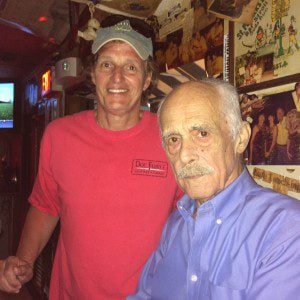 The picture you see to the left was taken at the altar of a small church in Key West, Florida. Okay, it wasn't a church, it was a bar. But bear with me, because there are some similarities.
It is a place called the Chart Room and it's where I drank a few beers with a local guy named Che. If you travel to this laid-back island town and don't have a smartphone handy, you might not find the place. There's no sign out front, in fact you can't see it from the street—it's embedded within an inner corridor of a big resort hotel. (Word is a previous owner of the hotel wanted a convenient place to drink so converted one of the rooms into a watering hole.)
While the hotel has obviously been upgraded over the years, by all appearances the Chart Room has not. It's what some people might call a dive. I'm not going to try and describe it because an unidentified writer at a local Key West blog did a better job than I ever could:
Imagine for a moment a dingy low-ceilinged room that could pass for a large storage closet. You enter and find—parallel to one windowless wall—a heavy mahogany bar with seven battered bar stools ending at a popcorn machine last cleaned during the Carter administration. Crowded into one corner: a round table with sagging chairs; an old TV mounted from the ceiling like a monument to obsolescence. The floor is carpeted with shells from a huge barrel of peanuts; the walls are covered with cracked and fading photos of patrons past. No sunlight has ever intruded here…ever.
In the 70s and 80s, much of Key West's business was conducted at the Chart Room (not all of it legal) amid the "acrid essence of booze, beer and cigarettes". It's the bar Hunter S. Thompson used to hang at when he came to town. Jimmy Buffet used to play here in exchange for free drinks. And when Key West tried to secede from the US back in 1982, members of the all-volunteer Conch Republic's "army" used to meet here to plot strategy—well, actually, to drink. The place has got history.
The mahogany bar in the Chart Room is a revered place where a peculiar ritual takes place. Over the years, the Chart Room regulars were immortalized by having gold name plates affixed to the bar just above their stools. And as they passed away, something else was added—their earthly remains. Look up and down the bar and you can see evidence of the holes where a portion of the deceased's ashes were spooned in, the openings shut tight with wooden plugs.
Che told me tales of the regulars whose remains now reside there. Like the late treasure-hunter Mel Fisher who, before he struck it rich, used to take up collections from bar patrons to buy his crew rice and beans—they were growing tired of eating nothing but the fish they caught. There was also General Jeff, a commander in the Conch Republic Army. When he passed on, the regulars decided to toast him by mixing a little of his ashes in their drinks, which Che admits was not their smartest idea ever.
He also shared his story: After years of bouncing around New York City, Che came to Key West in the 1970s for an extended stay. He never left. He once had his heart broken by a long-legged blonde from Ohio, who ended up choosing the infamous saloon owner Captain Tony over him. He later became the co-founder of the Chart Room's Gentleman's Club and Occasional Choir, a once-a-month dinner for "regulars and irregulars" that would culminate with the entire group standing and singing songs a capella.
There is a plaque on the Chart Room bar for Che and one day his ashes will be there too. (Though it will have to be done surreptitiously, as the stuffy Key West Health Department now frowns upon the practice.) He is possibly the last man standing, except for one other guy who may be in Dallas or already deceased. Che is 83 now, almost 84, and doesn't come to the Chartroom as much as he used to. But he occasionally stops by to share old memories with the handful of regulars who still frequent the place.
So what does this story have to do with spirituality? I could tell you the bar was like a church where people with a common bond congregate, share mythic stories, engage in rituals that include enjoying a righteous beverage together. There is love and compassion here and even a minister stand-in behind the "altar", a bartender (and local) named Emily.
But what really struck me about my encounter with Che was the importance of story—and the need to have our own stories to tell. These stories aren't about our profession or what we do or did for a living, but the yarns that make us who we are. Our adventures. Our discoveries. Our relationships. Our up and downs. The winding and crooked path that led us to the place we are today.
You might want to ask the elderly in your life about their story. Or you might want to ask yourself: What gives my life meaning and purpose? What are my passions? How did I arrive at the place I now stand? Where am I headed? Who or what is my God? Was there a single moment of enlightenment or many? How do I want to be remembered?
Find the stories that matter most to you. Then, write them down. Record them on an audio or video. Share them with family and friends, with anyone who might want to know who you are and what makes you tick. I just had a glimpse into the life of Che of Key West and he had one good story to tell. How about you?