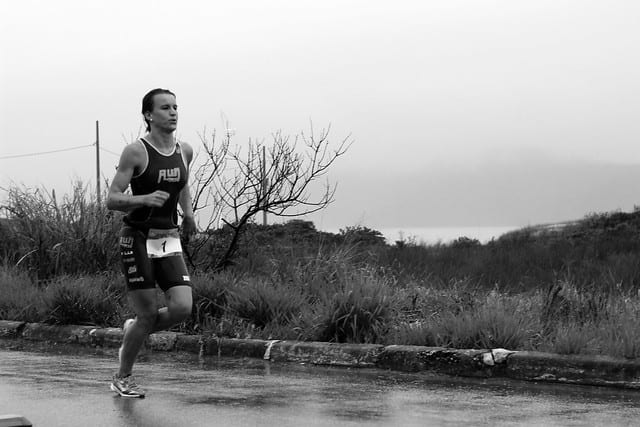 Last night I completed my ninth triathlon. Before I go any further, I should point out that triathlons come in varying lengths. When most people hear the word, their minds go immediately to Iron Man competitions, like the annual one that happens in Hawaii. However, there are actually four distances: sprint (approx. 15 miles total), Olympic (approx. 30 mile total), half-triathlon (70 miles) and full triathlon (140 miles). The later two are sometimes called half Iron Man and full Iron Man, but technically Iron Man is a trademarked name. Not every 70 or 140 mile race is an Iron Man.
I've completed a number of sprint and Olympic distance triathlons. The one last night was a sprint. In terms of my overall performance, it was perhaps my best tri to date. Thankfully, I don't feel sore today, but I am a little fatigued and a bit groggy. Another good night of sleep should resolve those issues. In addition, I'm feeling a bit reflective. Today, I'd like to talk about why I love triathlons and how they compare to our walk as Christians.
Triathlon v. Other Competitive Sports
One of the things I love most about triathlons is how you define success. In competitive sports, you win by outplaying your opponent. For most sports, you do this by not only playing better than your opponent, but by overtly do things to prevent your opponent winning. In order to win, you have to actively defeat your opponent by doing whatever you can, within the boundaries of the rules, to stop him or her from achieving the goal of the sport, the very goal you yourself are trying to achieve.
Triathlon belongs to a class of competitive sports where you don't compete as opponents. In fact, if you actively do something, anything, to harm or hinder another competitor's performance, whether intentionally or not, you will be evicted from the event. Thus, the competitors don't treat one another as opponents, like most other sports. While victory is achieved by outperforming the other competitors, it is not achieved by defeating them.
In triathlons, the overwhelming majority of participants are amateurs. While awards and prizes are still available for these competitors, they are small. Within this group, few are competing even for these. The majority of participants are competing against their own personal records, the race time clock, and the finish line. Victory is not achieved in relation to the other competitors. It is achieved by simply crossing the finish line.
This reality makes for a strong sense of community among triathletes. We all know how much time and effort is involved in training. We know much work it is to cross the finish line. Therefore, we are often one another's biggest cheerleaders. It's routine, as we pass each other on the course, to shout out encouragement and crack jokes. Unlike competitive sports where the participants succeed by opposing one another, triathletes see themselves as a group of comrades sharing a common journey. We're just as happy for the others who cross the finish line as we are for ourselves. Therefore, we urge one another on to victory.
The same is true of the spectators. Often, the course is lined with people cheering on the participants. Folks shout words of encouragement. Some hold up signs (some of which are quite funny). If the course passes through a residential area, occasionally a home owner will point a sprinkler over the road to cool down the bikers and runners.
Triathlons and the Kingdom pt. 1
In 2 Tim 4:7, as the apostle Paul writes anticipating his imminent death, he likens his life to a race. He writes to Timothy, "I have fought the good fight, I have finished the race, I have kept the faith." The race analogy works well for our lives as Christians. For us, life is the race and the finish line is death. The challenge of the race is to maintain our faith commitment to Christ until we cross that finish line.
Like triathletes, Christians are not competitors who win by defeating one another. We are comrades, co-participants striving for the same goal. Our goal is to cross the finish line. This is how we define victory. Additionally, we're not merely thrilled by our own success. We encourage and cheer our brothers and sisters, spurring them toward victory as well.
In a triathlon, none of the participants are required to cross the finish line. They can quit anytime they want. For a variety of reasons, some don't finish the race. A few years back, I was waiting to start a race. It was early in the morning, raining, and the temperature was 45 degrees. At that time, I didn't own a wetsuit, unlike most of the people around me. As you can imagine, standing there shivering in the rain, I was struggling mightily trying to convince myself to dive into the water despite the cold.
I went back and forth a lot. No one would have blamed me for choosing to opt out under those conditions. Somehow, though, I managed to convince myself to do it. Unfortunately, that wasn't the first time I had to make that decision in that race. I hadn't swum a hundred yards before things went bad. I was so cold I felt like I couldn't catch my breath. All my training went out the window. I began to panic a bit. Finally, I grabbed onto one of the rescue kayaks and stopped. I was pretty sure I was going to have to ask the volunteer to take me back.
After a couple of minutes, I regained my composure and decided to keep going. I was able to find a rhythm of swimming coupled with short breaks that allowed me to complete the course. Once I was out of the water, the rest went pretty well. The rain stopped and the temperature went up a bit. I was able to complete the bike and run legs of the race and cross the finish line. While it was not my favorite race by a long shot, it is still one of my proudest moments. Despite overwhelmingly adverse conditions, as well as my own fears and doubts, I finished the race.
Triathlons and the Kingdom pt. 2
Even under the best of circumstances, a triathlon is just hard. You're pretty much guaranteed to experience enough pain and fatigue to make you question your desire to continue. For some, they just reach a point where crossing the finish line isn't worth it. They don't want it bad enough.
For some Christians, crossing the finish line isn't worth the effort and sacrifice that discipleship requires of us. For the New Testament writers, there was an expectation that discipleship would result in suffering. It is common theme throughout scripture, (though not so common in contemporary preaching).
In fact, suffering plays a key role in determining the genuineness of one's faith. In 1 Peter 1:6-8 we read, "In this you rejoice, even if now for a little while you have had to suffer various trials, so that the genuineness of your faith… may be found to result in praise and glory and honor when Christ is revealed," (see also James 1:2-4, Rom. 5:3-4). As a triathlete, I can train for weeks and months, but it's the race with all its hardship that is the true test.
As Christians, we must train ourselves for endurance, so that we can continue despite hardship and suffering. For us, life is the race. There will be times in life when circumstances will make us feel like quitting. What will keep us going during these moments? Do we have the determination to endure to the end? Is our desire to cross the finish line strong enough to push through the pain and fatigue?
No matter how many races I complete, the jubilation of crossing the finish line never diminishes. My wife, family, and friends are usually there to cheer me on. I've gone to many races to do the same for others.
I'm always impressed by the diversity of participants. Men and women of all sizes and ages (and I've seen some pretty old people) are brought together by a single common goal: cross the finish line. It doesn't matter what stroke you use to swim, just get to the end. Ride your bike fast or slow, just get to the end. Run, walk, or do a little of both, just get to the end.
After using the race analogy, Paul continues in 2 Tim. 4:8, by writing, "From now on there is reserved for me the crown of righteousness, which the Lord, the righteous judge, will give me on that day, and not only to me but also to all who have longed for his appearing."
My buddy Sam gave me a little good-natured ribbing for getting a participation medal for crossing the finish line of the tri. Well Sam, evidently, God is all about participation medals. It's not about who finishes first or fastest. It's just a matter of crossing the finish line. Everyone's a victor. We all get to stand in winners' circle.
I like triathlons for a lot of reasons, but one of the biggies is that it routinely makes me think about discipleship and the goal of our faith. My prayer is that God will continue to be my trainer and that I submit to his training. If so, I will continue to build up my endurance and cross the finish line someday, just like the apostle Paul.