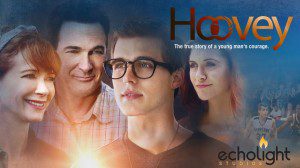 Have you heard of the movie Hoovey? Probably not, I'm guessing.
Hoovey is a little Christian flick directed by Sean McNamara (Soul Surfer) and starring some familiar actors (Cody Linley from Hannah Montana, Lauren Holly from NCIS and Motive, Patrick Warburton from the greatest car rental commercial of all time). It's not a breakthrough in Christian cinema, but it is a sweet, competent story worth some attention—at least in Christian circles.
It opens Jan. 31, but it's probably not playing at a theater near you. Distributed by Rick Santorum's EchoLight studios, it's screening only in what are called "EchoLight Cinemas," otherwise known as churches. EchoLight's website allows you to search for a screening within a 100-mile radius, and when I searched for Hoovey screenings around Colorado Springs, the search results came back with a big, fat zero. Oh, EchoLight has some participating churches in Colorado, apparently, including two in the Springs. But none are apparently showing EchoLight's first 2015 release. While EchoLight says it has more than 500 churches on board, my understanding is that Hoovey may play in just a handful of them.
Patrick Warburton deserves more. And so does the movie.
EchoLight is trying something pretty new with this church-based distribution. It has already released two films—One Generation Away and Christmas Candle—through the network. And the concept of creating your own network of church-based theaters seems, at first glance, like a great idea. After all, it's hard for Christian movies to get into secular movie theaters. There's so much competition and, I'm sure, lots of politics in play. There are other potential avenues, but renting theaters through, say, Fathom Events can be quite expensive. A secular Hollywood production might spend as much on M&Ms as a Christian outfit would on an entire film, so a church-based distribution model might just be common sense—and good stewardship besides.
And churches can be decent venues for movies. Sure, they might not have an IMAX screen or cupholders, but many sanctuaries are tricked out with the latest audio and video bling, and they've all got plenty of seating. (I've been to a few churches that actually are movie theaters.) In addition, a built-in target audience shows up every Sunday, making it a perfect conduit for marketing and promotion—pitches from the pulpit, fliers in the restroom, casual word-of-mouth by the coffee machine.
But unlike movie theaters, churches have other demands for their space: Weddings. youth groups. actual church. They're not going to set aside their sanctuary for a couple of weeks for any movie—not unless Elijah starred in it himself. And from what I can see, the churches have full discretion over when—and if—they show a movie at all. (One Dallas church won't show Hoovey until March 27, for instance. Eight other "EchoLight Cinemas" in the Dallas area don't have a premiere scheduled.)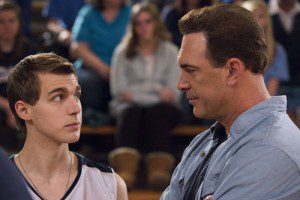 And then there's this ancillary issue: When you show movies in church, your audience is, naturally, going to be made up of church-goers. There's little chance that someone who really needs to hear the message is going to stumble into the sanctuary by mistake. This is not to say that Christian movies playing in theaters draw scads of secularists, but we can at least see a demonstrated desire to reach out to the broader culture. Screening Christian movies in Christian churches seems the very definition of preaching to the choir.
Perhaps EchoLight's model has more promise than I can see. I'd imagine it's a new model, and it could be that some kinks need to be worked out—or, who knows, when the numbers trickle in, maybe everyone will be thrilled with how it's working now. But from the outside, the model I see seems a bit flawed.
When Santorum took the reins at EchoLight, he talked about what a powerful conduit entertainment can be when it comes to shaping the culture. He told The Christian Post that Christians had "abandoned the playing field" of entertainment, and he was excited about running back onto the turf.
"We've not engaged in that battle and say, y'know, we want to compete for these ideas," he told the Post. "We want to produce quality content. We want to influence the young people. We want to influence the country, instead of trying to protect our kids from the bad stuff that's out there."
Hoovey qualifies as quality content. But it's hard to influence the culture much when the culture can't see it.