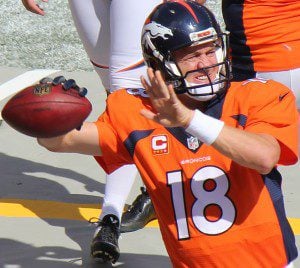 This blog is about looking for God in entertainment, so it's only right we mention here the biggest entertainment event of all: The Super Bowl.
Admittedly, I doubt very much whether God cares who wins. But whoever wins, there are plenty of players who care about God. One of those players is Peyton Manning.
Some Christians might be surprised at that, given their reaction when he came to town and supplanted one of the most popular players in Denver Broncos history. Trust me on this: I'm a Broncos fan who lives practically in spitting range of Denver. And while I've experienced plenty of highs (trips to the Super Bowl) and lows (most of the Super Bowls themselves) in my lifetime, maybe one of the most interesting, frustrating, and thrilling seasons I've ever experienced was in 2011—the year of Tebowmania.
The 2011 season was a surreal creature of wonder. Tim Tebow—talented athlete, super person and a so-so quarterback—slipped into the starting lineup when the Broncos started poorly under Kyle Orton. Many fans were thrilled. The Broncos front office weren't sold on the guy, but when you start 1-4, what have you got to lose? The rest of the sports world sniggered behind their hands.
Eleven games later, Tebow had proved all his critics right. He struggled in the passing game, and in almost all his outings, the offense looked pretty sorry for, oh, 50 minutes of a 60-minute game. In one match, he completed two throws the entire evening.
But just when Broncos fans were about ready to turn off the TV and mourn somewhere, magic happened. They'd drive straight down the field. Tebow would pull off a 30-yard run. They'd recover a timely fumble. They won eight games (including six in a row) and landed in the playoffs. And while they were expected to play Washington Generals to the Pittsburgh Steelers' Harlem Globetrotters in the first round, Tebow surprised everyone by tossing an 80-yard touchdown pass to Demaryius Thomas in the first play of overtime, winning the game. Many believed that there was something special at work. Something miraculous. That God, for whatever reason, wanted Tim Tebow to win football games. And whether he could throw or no, it looked like Tebow was going to be the starting quarterback for the conceivable future. Or, at least, the 2012 season.
Then Peyton Manning came to town.
I know several football fans who abandoned the Broncos when Denver let Tebow go—and their anger was based in part on faith. Never mind Manning was a four-time NFL MVP and arguably the greatest quarterback in history. They believed that the franchise had betrayed Tebow—a highly visible, highly Christian quarterback. Some went so far as to say that Tebow was shunted to the side because of his faith. And believe it or not, two Super Bowls and four AFC West titles later, that anger remains just as strong in some. To this day, you can hear Tebow fans call into local sports talk shows and vent their disapproval.
What they might not realize is that Peyton's faith is arguably just as robust as Tim's—if not quite as filled with endzone prayers.
In the book Manning, written by Peyton and his father, Archie, he writes:
Like my dad, I make it a point when I speak to groups to talk about priorities, and when it's schoolkids, I rank those priorities as: faith, family, and education, then football. For me generally it had always been the big four: faith, family, friends, and football. And I tell all of them that as important as football is to me, it can never be higher than fourth. My faith has been number one since I was thirteen years old and heard from the pulpit on a Sunday morning in New Orleans a simple question: "If you died today, are you one hundred percent sure you'd go to heaven?" Cooper was there and Eli [Peyton's two brothers] but it didn't hit them at the time the way it did me. It was a big church, and I felt very small, but my heart was pounding. The minister invited those who would like that assurance through Jesus Christ to raise their hands, and I did. Then he invited us to come forward, to take a stand, and my heart really started pounding. And from where we sat, it looked like a mile to the front.

But I got up and did it. And I committed my life to Christ, and that faith has been most important to me ever since. Some players get more vocal about it—the Reggie Whites, for example—and some point to Heaven after scoring a touchdown and praise God after games. I have no problem with that. But I don't do it, and don't think it makes me any less a Christian. I just want my actions to speak louder, and I don't want to be more of a target for criticism than I already am. Somebody sees you drinking a beer, which I do, and they think, "Hmmmm, Peyton says he's this, that, or the other, and there he is drinking alcohol. What's that all about?"

Christians drink beer. So do non-Christians. Christians also make mistakes, just as non-Christians do. My faith doesn't make me perfect, it makes me forgiven, and provides me the assurance I looked for half my life ago.
And like Tebow, Manning seems to walk the walk.
Gregg Doyel of the Indianapolis Star writes about how Manning still calls sick kids at St. Vincent Hospital in Indy—even though he's not been a part of the community for years. His PeyBack Foundation fed up to 20,000 people in Indianapolis and Denver. He sprang a surprise visit to Gateway High School after one of their recent graduates was killed in the Aurora theater shooting. He writes encouraging letters. He makes goodwill calls. And most of his outreach, according to Doyel, nobody but Manning ever knows about.
Bob Kravitz, another columnist from Indy, wrote this:
Whatever you read about, he does 10, 20, 30 times more things that you never read about. I can't tell you the number of e-mails I've gotten from people who said that Peyton did this, that or the other thing for a child or for a sick person that never made the newspaper, that wasn't part of the PeyBack Foundation, that was just a random act of kindness.
Listen, I know Manning's not perfect. I'm sure he's made some mistakes, as he admits. The NFL is poking into allegations that Manning took human growth hormone at one point in his career, and we'll have to see what happens with that. All I can say is that, from what I see from the guy, and what I hear about him, he seems to be the sort of athlete who takes his role as role model seriously. And that, I believe, can be attributed to his faith.
There are loads of other Christians on the field, of course. Over on the Panthers sideline, wide receiver Jerricho Cotchery has talked this week about how important faith is to many Carolina players, and told The Christian Post that he sees himself as a role model. "I just want to make sure that I represent God the right way before these young men, so that they can see what a husband looks like, what a man looks like, what a dad looks like, and have God glorified from that." Panthers star running back Jonathan Stewart tweets out Bible verses. Cam Newton—Carolina's Superman—believes God protected him after he was in a serious accident in 2014.
"While I am resting up, the thought that keeps flashing in my mind is that GOD IS GOOD and someone has (their) protective hands on my life shielding me from any danger that may come my way!" He wrote on Facebook.
But me, I'm rooting for the other guys. I'm rooting for Manning, "the Sheriff," to have one last glorious game that he can put in his back pocket and ride into the sunset with.  I'd like to see this Broncos season—a strange, stressful one in its own right—to finish with the Lombardi Trophy clutched in Peyton's hands.
But if that doesn't happen—if the boys in black and blue whup my beloved homestate team, as they're expected to—I know that Manning will be just fine. His hope is set in a higher place.