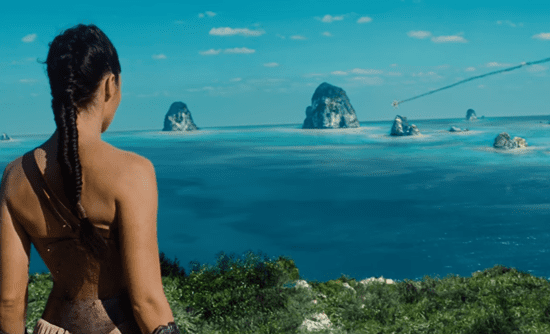 Gal Gadot in Wonder Woman, photo from Warner Bros. trailer
A Dollop of Paganism …
Wonder Woman's story begins on the island of Themyscira, home to fierce, all-female warriors called the Amazons. And we learn right away that there's something different about her.
Unlike most girls, Wonder Woman—whose real name is Diana—was fashioned out of clay and given life by Zeus, the ruler of all the gods (or so Diana's told by her mother, Hippolyta).
But Diana wasn't the only thing that Zeus brought to life. He's also the father of the whole human race, which he made to be good and wise and just super-great in every respect. Alas, Ares, the god of war corrupted humankind, turning them on each other. Eventually, he had a bit of a throwdown with the rest of the Greek pantheon—killing the gods one by one until just he and Zeus remained. Zeus managed to defeat Ares, but at great cost: He suffered a (ironically) mortal wound, and so with his dying breath, he crafted a weapon capable of defeating Ares—the God Killer. The Amazons, naturally, are Ares' eternal enemies.
For those who paid attention in Classical lit, all those name may sound familiar. In Greek mythology, Hippolyta was reputed to be a queen of the warrior Amazons, as was Antiope (who in the movie is an Amazon general). Both of these women appear in mythic stories: Heracles kills Hippolyta to get her belt (taking it was one of his 12 Labors), while Antiope somehow hooks up with Heracles' brother, Theseus (accounts vary on how consensual this relationship was).
As in the movie, the women are sisters in Greek mythology—though, ironically, daughters of Ares. They all got along just fine. As for a war between Zeus and Ares … well, forget about it. Ares is Zeus's son and, while depicted as rather hot-headed and free-spirited, I don't think the two ever had a serious falling out—and certainly not over the race of man. (But more on that later.)