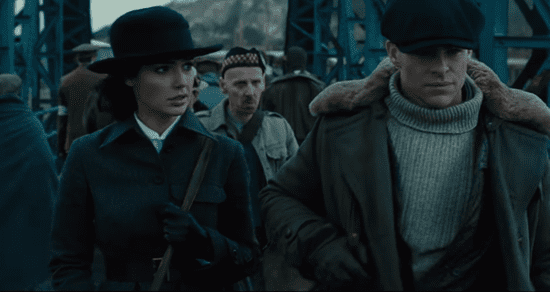 Gal Gadot and Chris Pine in Wonder Woman, photo from Warner Bros. trailer
A Sprinkling of Humanism …
When the movie opens, we're led to believe that a sword is the God Killer. But when Diana runs into Ares, she discovers the sword was a sham. In truth, she's the God Killer—a daughter of Zeus capable of standing toe-to-toe with Ares and winning.
Now, ordinarily, this wouldn't be worth calling out. Two "gods" battling each other seems just a continuation of the pagan world we read above.
But given the theological landscape the movie gives us, it's a bit interesting. Remember, Ares and Diana are, according to the movie, the only gods left: Ares killed the rest. If/when Diana slays Ares, she'll be the last.
But her powers, for a god, are pretty puny. She's not omniscient, not omnipowerful and lacks Zeus' knack for creation. She's far more demigod than true god: She won't hear anyone's prayers from a half a world away. In the theology that Diana's been taught, there are no more gods. She killed the last one. Humanity—with a little help from superhuman beings like herself—is pretty much on its own.
In light of that, it's interesting that the movie shows her knocking down a church steeple.
But throughout the movie, we learn that Diana's theology isn't necessarily (as it were) the Gospel truth. And the movie's spirituality goes deeper yet.