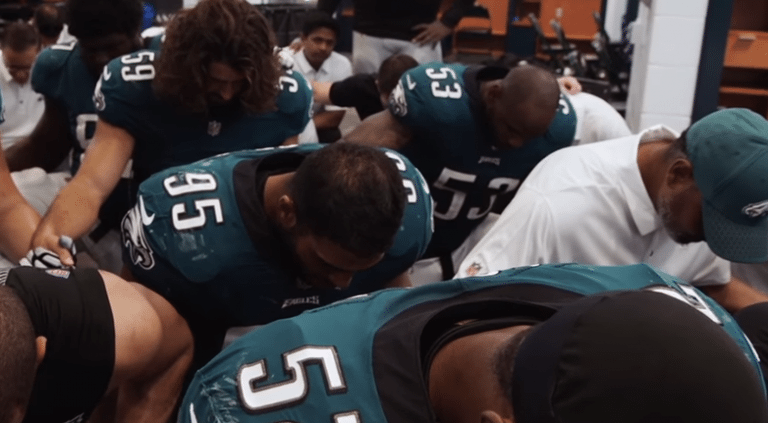 Just moments after the Philadelphia Eagles upset the New England Patriots in the Super Bowl, 41-33, Philly Head Coach Doug Pederson stood up on stage in a storm of confetti. When ESPN's Dan Patrick asked Pederson how he went from coaching high school football to leading a team to an NFL Championship, Pederson deflected the credit upstairs.
"I can only give the praise to my Lord and Savior Jesus Christ for giving me this opportunity," he said.
Next up: Zach Ertz, the Eagles' top tight end. "Glory to God, first and foremost," said Ertz, who'd been baptized last March. "We wouldn't be here without him."
Then came Nick Foles, the backup-quarterback-turned-Super-Bowl-MVP, the same guy who nearly quit the sport before he spent some time in prayer reconsidering.
"All glory to God," he began.
And so a classic championship game transitioned into a Sunday night revival, where players pointed their fingers up to the heavens or bowed their heads in prayer. It marked the culmination of one of the most interesting stories in sports: How the Philadelphia Eagles became one of the most overtly Christian locker rooms in the National Football League … and carried that faith all the way to a championship.
Not every Philadelphia player is a Christian, obviously, but the Eagles have apparently made faith an integral part the team's culture. According to The Washington Post, the Eagles have even held baptisms in the team's training room and at hotel pools.
Foles wants to become a high school pastor after football. Carson Wentz, who had been the team's starting quarterback before an injury sidelined him, has been the NFL's most outspoken Christian since Tim Tebow. Franch Reich, the team's offensive coordinator, was a pastor between his playing and coaching days. The Eagles organization itself even released a little documentary on the role that faith plays on the team. Don't think my own Denver Broncos have done that recently.
There are those who might look at the team's success this year and say that God blessed the Eagles with that success. And who knows? Maybe.
Personally, I have a hard time believing that God cares much about who wins or loses a football game. If He did, seems like Tebow's NFL career would've been longer, y'know? Every team has its share of Christians.
But I do think there's something about faith that can ground us and, paradoxically, free us.
"I think the biggest thing we're always challenging each other with is not to lose sight of the bigger picture," Wentz says in the video above. "I  think wins, losses, highs, lows, everything that comes with this game, it's so easy to take your mind and eyes off the ultimate prize, and that's living for the Lord."
Wentz kept his eyes on the ultimate prize—even when injuryderailed his possible MVP season and, many believed, doomed the Eagles' chances for a Super Bowl win. Wentz could've lamented the injury. He could've pouted, and who would've blamed him? Instead, just hours after the injury, Wentz tweeted, "I know my God is a powerful one with a perfect plan. Time to just lean in to him and trust whatever the circumstances! #Proverbs3:5-6"
Wentz talks about the "bigger picture"—about focusing on something beyond the game of football. I think that when our attention is focused on something bigger than ourselves, something worthy and eternal, it humbles us. We know that whatever we're doing—this game, this job, this test, this blog—isn't as important as that ultimate truth. The pressure's off: We don't want to lose, of course. We don't want to fail. But when we lean on God, when we trust in Him whatever our circumstances, we come to understand that no loss is final, no failure fatal. We know what's really important: The rest is just icing.
And when we have that assurance, we can look to whatever we're doing and just … do it. The pressure's off. We can play loose. We can have fun. We can glory in the moment and give it our all, knowing that our self-worth isn't predicated on whether we succeed or not.
Now, some will look at sport's greatest winners, the Vince Lombardis and the Michael Jordans and the Tom Bradys of the world, and they'll see people whose desire to win outstripped everything else. "Winning's not everything, it's the only thing," Lombardi famously said. "I'm a pretty good winner," Brady once said. "I'm a terrible loser."
And there's truth in that, too. Some folks are driven to win because they can't accept anything but, and because of that insatiable hunger for success—that inability to ever be satisfied—they can do some remarkable things. "You wanna know which ring is my favorite?" Brady has said. "The next one."
But sometimes, it's gratifying to see folks who, in Wentz's words, see the bigger picture and win the ring anyway. Sometimes, nice guys do finish first.