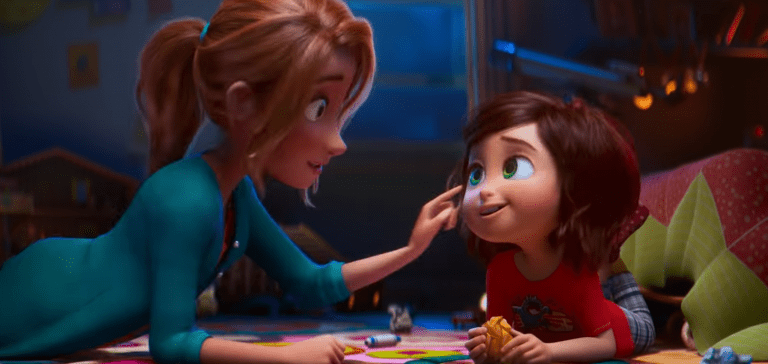 In Genesis, God speaks the universe into being. "Let there be light," He says, and so it is.
June's Wonderland, her fabulous and imaginary (?) amusement park at the heart of Paramount/Nickelodeon's new film Wonder Park, is made in much the same way.
June and her mom made Wonderland. They've designed and "built" it together—so much so that a whole wall in June's room is covered in park blueprints and the house is filled with models of fantastic rides. But each Wonderland attraction begins with a whisper: June picks up her stuff chimpanzee, Peanut, and whispers in his ear what she wants him to do.
And in some mystical realm, Peanut takes his magic pen and makes it happen.
I wonder whether
Wonder Park'
s makers
intended
to echo our own creation. It's interesting, for instance, that Peanut is a chimp—a species that evolutionary biologists say is humanity's nearest living relative. And before the story ends, we understand that Peanut is more than a stuffed animal. The hair, the eyes, even Peanut's doubts, insecurities and habits echo June's own. Peanut was made in her image.
This opens up some weird, fascinating spiritual rabbit trails: How June comes in person to save her own creation; how she commits a sacrificial act, diving into literal darkness to save others; but also, how June is an imperfect creator/rescuer—responsible for the collapse of Wonderland even as she tries to correct it. For what would seem to be a relatively innocuous kids' cartoon, there's a lot going on here—good, bad and just plain interesting.
But let's move away from June as a Wonderland savior and focus on her role as a creator, because I think June can teach us something about us, too.