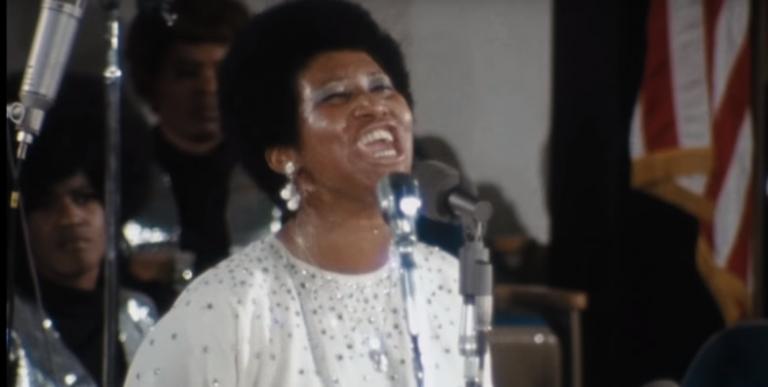 Singer Aretha Franklin was at her peak in 1972. She'd recorded more than 20 albums, won five Grammys and was already the undisputed Queen of Soul.
But now, in a way, she was coming home—to the music she grew up with, the music that still meant so much to her.
Over the course of two January nights at the New Temple Missionary Baptist Church in Los Angeles, Aretha Franklin recorded Amazing Grace—a collection of gospel songs that eventually sold more than 2 million copies. It's still the highest-selling live gospel album in history.
The two-disc album was originally supposed to come with a movie, too—a documentary by rising directorial star Sydney Pollack. Now, 47 years later, we finally get to see it. And boy, was it worth the wait.
The story of this star-crossed documentary is almost as riveting as the doc itself. Pollack, who'd never done a project like this, didn't use a clapperboard. The upshot: He couldn't sync the video and audio, meaning all the video he shot was essentially useless. After six weeks, Pollack and his team gave up trying, and the material sat in a vault for 38 years until producer Alan Elliott bought it in 2008.
Elliott spent two years syncing the footage from that two-night performance. But then, just as he'd finished the film, its star decided she didn't want anyone to see it. Why? No one really knows. Even though Franklin publicly said she loved the film, her bassist Chuck Rainey told The New York Times that she didn't like it at all. According to Times writer Natalie Rinn, Rainey believed that "her resistance derived from a feeling that the film wound up being more about style and celebrity than about the music or the worship—or even about Franklin."
Rainey's got a point. The film is, in part, about style and celebrity and the show. The church is a circus of activity, and the Rev. James Cleveland—a gospel legend in his own right—is its ringleader. He charms the audience, directs the players, and he comically grouses when he's not able to showcase his own musical chops. Franklin's backup singers—the Southern California Community Choir led by the electrifying Alexander Hamilton—collectively walks down the church aisle bedecked in shimmering sequined vests. Pollack's cameras pick out The Rolling Stones' Mick Jagger and Charlie Watts in the audience. Cameras are everywhere. Electrical cords run up and down the church carpet like snakes.
"This is a church," Cleveland says at the outset, "and we're here for a religious service." But who's he kidding? Some in the audience aren't looking to hear from God, but Aretha Franklin.
But when Franklin settles behind the piano and starts singing, everything changes.
Marianne Faithfull once said that Franklin was "the voice of God," but here—in New Temple's sweltering sanctuary—Franklin herself exposes that lie. The Voice of God becomes the servant of God, belting out song after song as sweat pours down her face and tears leak from her eyes. This is work, this celebration of the Almighty—joyous, glorious, rapturous work. It's easy to forget that when we just hear Franklin sing: When we close our eyes and listen, we imagine it's all so easy for her. But when we see Franklin at work, we know it's not easy, this raw power and beauty. It's not easy to inflect gospel with butterfly beauty and muscle-car torque simultaneously.
But Franklin's a maestro. Yes, God gave her a marvelous gift, but she honed it and shaped it into the instrument it is. And in Amazing Grace, she throws that voice to the back walls, to the rafters, to the sky … back to Him. People rise from their seats, dance in the aisles, laugh, cry, raise their hands. It's beautiful.
But almost as telling? The silence that follows the song.
We hear Franklin sing plenty in Amazing Grace, but we hardly ever hear her talk. Between songs, she's serene, almost sphinx like, letting James Cleveland run the show. Yes, those two nights of gospel were shows, in a sense. But not for Franklin. She, above all, heeded Cleveland's reminder that this was church, and she was engaged in worship. It's almost as if, through her silence, she was telling her audience that she was nothing more than a tool in the hands of God. Instead of soaking up the adulation, she deflected it back to Him.
I like how Craig Jenkins put it in Vulture:
Aretha's posture during Amazing Grace—stately, demure, joyful, eyes smiling—is not the same as her commanding presence during her Fillmore West gig from the spring of 1971. At Fillmore, Aretha wanted you to know that you were in the presence of greatness. At New Temple, you were in the presence of the Lord.
In a way, Amazing Grace­—through its imperfections and off-screen drama—reflects what Church is. What Christianity is. We come to the altar not with the purest of hearts. Too often we focus ourselves on we, not thou. We're distracted by the circus and look to proclaim ourselves in its lights.
But when we turn our attention heavenward, when we give our gifts to the giver, that's when the Church's real, all-too-infrequent beauty is unveiled. When miracles happen. And our failings, whatever they are, are blended into the holy whole.
Amazing Grace is an amazing doc—a snapshot of an unmatched artist in her full power and glory. But more than that, it points where that power and glory came from.