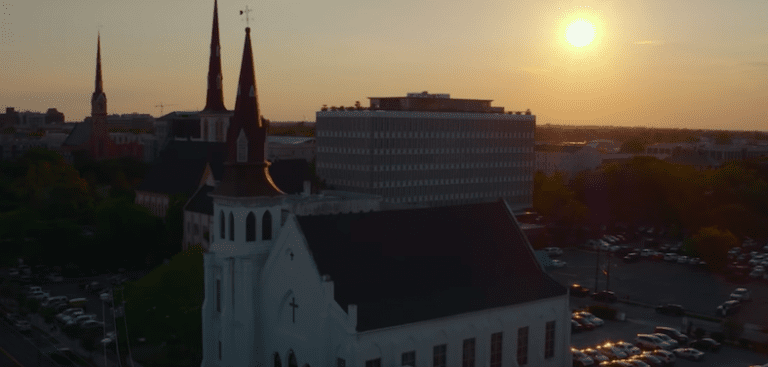 "Forgive them, for they know not what they do." That's what Jesus said, hanging on the cross, asking His Father to show mercy to His killers.
But what if they do know?
Emanuel, a new documentary in theaters June 17 and 19, tells us.
When Dylann Roof walked into Charleston's Emanuel African Methodist Episcopal Church on June 17, 2015, he knew exactly what he intended to do. The white supremacist was determined to kill black people in the hopes, it was said, of trying to start a race war. In Emanuel, we see the 21-year-old man walk into the church. We're told by eyewitnesses that he sat down, apparently ready to engage with an evening Bible study.
"He sat through the whole Bible study," Felicia Sanders says in the movie. "And when we closed our eyes to pray, that's when he lit up the room."
Roof killed nine people that evening, including Clementa C. Pinckney—Emanuel's pastor and a South Carolina state senator. Even in a country that has grown all-too-used to mass shootings, the slaughter at Emanuel felt particularly horrific. To gun down anyone is a terrible tragedy, of course. But to do it in a place of worship—to do it in the act of prayer—felt like an almost unimaginable violation.
Emanuel, by Drop Box director Brian Ivie (and produced in part by Oscar-winning actress Viola Davis and NBA superstar Steph Curry), is a riveting revisitation of that terrible tragedy and its stunning aftermath. The movie unpacks not just the personal stories tied to the massacre, but the story of the church itself. It explains the historical importance of traditionally African-American churches like Emanuel: How Christianity was, in the words of Southeastern University's Dr. Walter Strickland, "that thing that allowed them to stand and go about week after week after week of the abuse." How African-American churches like Emanuel were places where author A.R. Bernard said that "the black community had a sense of ownership." How important Emanuel—one of the oldest and largest black churches in Charleston—was in a city in which slavery had historically been so important and, afterward, where racism was so entrenched.
The film doesn't blink when it comes to those horrific events of June 17. Ivie focuses his camera on the survivors and grieving family members as they unspool their stories, letting those moments not only breathe on camera, but weep.
But when the movie turns to how these survivors responded afterward, Emanuel moves from an excellent study of the story to something more. Something far more challenging and, I think, inspiring.
"I forgive you," Nadine Collier, who lost her mother in the attack, told Roof during court proceedings less than two days later. "You took something very precious from me. I will never talk to her again. I will never, ever hold her again. But I forgive you. And have mercy on your soul."
She wasn't the only one. Others stood up and, instead of directing understandable hatred and anger in Roof's direction, they offered something else.
"Repent," said Anthony Thompson, whose wife died in the attack. "Confess. Give your life to the one who matters most: Christ. He can change it, change your ways no matter what happened to you. And you'll be OK."
You'll be OK. How is it possible to offer that sort of grace in the midst of such grief? I don't know if I'd be able to do it. And other survivors weren't. "Ain't no way in the world I'm going to forgive him," another survivor says in the movie. Other speakers and activists were angry with Nadine, Anthony and others, arguing that it short-circuited a much-needed conversation about race in Charleston.
I get that.
And yet, I think it's exactly what Jesus would've done, too.
Forgive them, for they know not what they do.
On one level, Dylann Roof knew exactly what he was doing. But in the same way, so did Jesus' accusers and executioners. They knew they were taking a life. They just didn't know the real person whose life they were taking.
And neither, of course, did Dylann. He'd so de-humanized his victims that he ceased seeing them as real people—only as obstacles or, perhaps, as catalysts to the race war he hoped to ignite.
Instead of a race war, though, he found something very different, and very unexpected. We all did. And that coda helps turn this tragedy into something much more remarkable, even though it can't erase the loss. Emanuel is a well-crafted and, in some ways, remarkable documentary, a story that never mitigates the tragedy, but points to something beautiful beyond.
Look for Emanuel in theaters June 17 and 19.