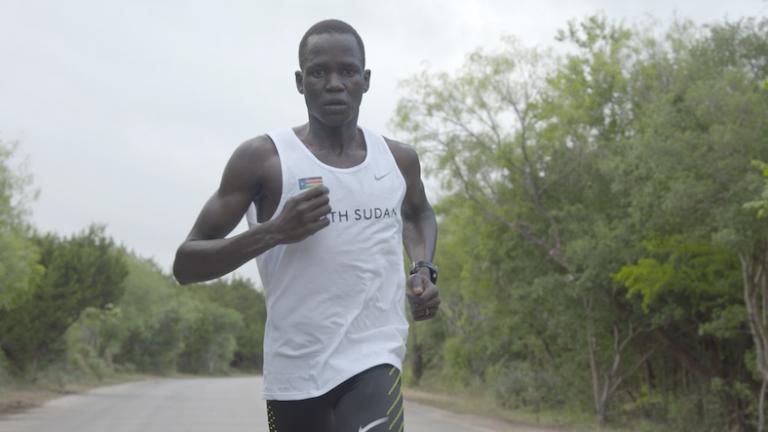 Guor Mading Maker was an experienced runner long before he laced up his first pair of track shoes. He'd been running for most of his life.
Guor (formerly known as Guor Marial) was born into war. Sudan's second civil war erupted in 1983, the year before he came into the world, and it raged throughout his entire childhood. When he was 8, Guor's parents—fearing for his safety in their war-ravaged village—sent Guor off to fend for himself. From that moment on, he was on the run: from captors, for safety, for his life.
Eventually, Guor ran all the way to the United States—through high school, college and ultimately to the 2012 Olympics as a marathoner. He couldn't compete for his native South Sudan, which had just become a country the year before. He refused to run under the Sudanese flag, given that Sudan had been the cause of so much pain and loss in his life. So he ran under the Olympic flag as his countrymen and women cheered him through the streets of London, holding South Sudanese flags they'd sewn by hand.
And in some ways, his journey was just beginning.
Runner, directed by Bill Gallagher, chronicles the story of one of the world's most inspiring athletes. It's a fascinating look at Guor, his life and his motivations. And as I wrote for Docs/ology, the story can feel a little like a marathon itself: Not in a tedious way, but in the chronicling the challenges and obstacles that Guor powered through. This is a story not so much of strength, but of will.
That makes this movie–which you can rent and stream beginning today (June 19) by going to the website— instructive, inspirational and, I think, a bit spiritual.
"I got this chance," Guor says in the documentary. "God brought me all the way here, [and] it's my turn to do great things for [South Sudan]. I cannot walk away from it. That's what makes me, every single day, put the shoes on and run."
I've run a few marathons myself. I'm no athlete, but marathoning is also more about will than skill or strength or speed. It's about putting on your shoes every day to run. It's about pushing through the exhaustion when you hit mile 18. It's about dealing with rain and wind and sometimes snow. It's about trudging forward to the next porta-potty. It's about setting aside the pain you might feel in your back or feet or thighs.
It's about finding the will to take the next step. And the next. And the next.
Life can be a kind of marathon, too.
Most of us haven't had lives as fraught with terror and pain and sadness as Guor. He'd lost eight of his nine siblings during the civil war. He lost his teeth to a rifle butt. Most of us have no frame of reference to truly understand what Guor went through.
But we still know pain. We know loss. We all face obstacles as we live our lives. And just as the miles of a marathon make your body hurt progressively more with each mile, I think the sadness and loss and obstacles we suffer can feel like they grow, year after year.
Life is a wonderful gift, but living it can be exhausting. I won't speak for you, but sometimes it can feel like too much.
In 2003, when Guor was running for his high school track team in Concord, New Hampshire, he learned that his older brother had been killed. Guor was so torn up by pain and grief that he very nearly quit the team. When his coach implored him to keep running, Guor was angry. "I thought he was not feeling the pain I was feeling," he said.
But he did keep running—finishing in the top six of the New England high school championship tourney. The finish was a step toward college, toward All-American status, to the Olympics. And yes, to more obstacles and pain and hardships. But he kept running. Even now, he keeps running.
When Paul wrote his second letter to Timothy, he understood well the pain and setbacks that a life—particularly a life following Christ in that difficult time—could entail. It's said he wrote it from prison in Rome, the last epistle we have record of. In the letter, Paul talks a lot about endurance—about pushing through hardship and persecution to follow God faithfully. And he writes a little like a marathoner.
"I have fought the good fight, I have finished the race," he says. "I have kept the faith."
Whatever races you run in your life, the key to finishing them doesn't lie in talent or strength or luck. It's about will. It's about pushing through pain and difficulty and finding a way to keep moving forward. That's a lesson Guor reiterates in Runner—and one we'd do well to remember.
Runner is playing at 120 movie theaters nationwide as of June 19. It's also available to rent and stream at home. Go to runnerdoc.com for more information.