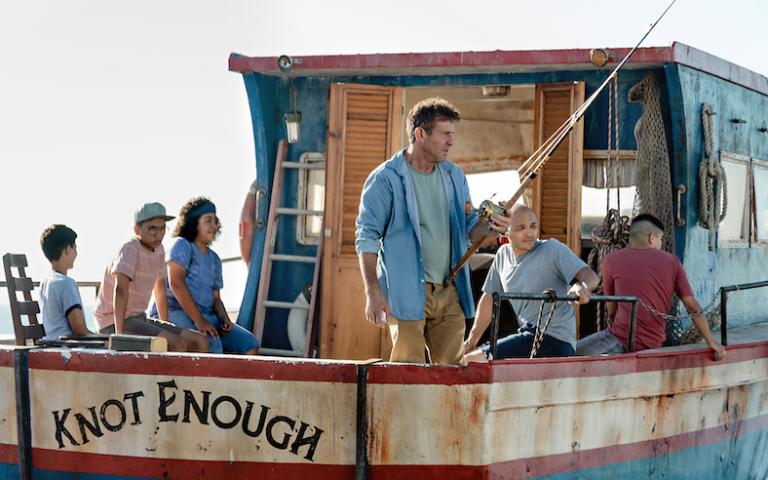 The story behind Netflix's Blue Miracle (starring Jimmy Gonzalez and Dennis Quaid) is almost too good to be believable: A bunch of kids from a troubled orphanage team up with a crusty, washed-up fisherman and enter the Bisbee's Black & Blue—sometimes called the Super Bowl of the fishing world—and win the thing.
And yet, Blue Miracle (which was released today on Netflix) is based on a true story. And for writer Chris Dowling, the real challenge was to take the story and make it play out like it should.
"It was so good, it already plays out like a movie," he said. "You couldn't have written it better, you know?"
Dowling has written plenty of stories for the screen. In 2014, he wrote Where Hope Grows, which marked the first time a character with down syndrome played a major role in an English-speaking movie. In 2018, he teamed with Tim Tebow to create the sports drama Run the Race, about two brothers using sports to deal with their mother's death. Most of his work has had a spiritual hook to it, and Blue Miracle is no different. But here, it serves less as the movie's centerpiece and more an undercurrent to what Dowling classifies as the ultimate underdog story.
I had a chance to talk with Dowling about Blue Miracle, his career and about faith-flavored filmmaking. I really enjoyed our chat, and I think you will, too. (The conversation has been edited a bit for clarity and length.)
Paul Asay: I watched Blue Miracle a couple of nights ago, and I thought it was really well done. Are you pleased with how it turned out?
Chris Dowling: I think Julio [Director Julio Quintana, who also shares writing credit with Dowling] nailed it. I think anytime you write something and it's handed off, you always have a little bit of fear. But I just think, everything he wanted, he got. The performances were great, I think the shots were gorgeous, the color template they used was fantastic. I think he really did a great job.
Asay: What drew you to this story in the first place?
Dowling: [Producer] Darren Moorman brought me on board after hearing the pitch. I've heard a lot of inspirational pitches [in my career], and as far as an underdog story goes, I don't believe I've ever heard of a bigger one than a bunch of orphans entering the Super Bowl of fishing. And then there was the spiritual element of really having to trust God and find a miracle in the most unlikely place. It really had so much going for it. I read it and I thought, 'oh my gosh, this has to be a movie.' It's so good, it already plays out like a movie. You couldn't have written it better, you know? It was for sure the most inspirational and touching film.
And it has real stakes, right? [Without a miraculous influx of money], the orphanage is going to be shut down. These kids are going back on the streets. This is not a zero-sum game. … As a writer, the real story's so good, it's incumbent upon you to be able to put that out there and share it with others.
Asay: I know that sometimes when I'm writing—and I've heard from other writers, too—that these projects can give you a chance to explore themes or issues that you're wrestling with in real life. Was that the case in this movie?
Dowling: I think the Idea of family is always going to be important to me. And obviously this [orphanage] is a family. It's not that I have any underlying family issues, but once you have kids, your paradigm shifts, and you start making decisions based on your family and the legacy you want to leave. So I think family is always going to hit home for me. And again, the stakes are there. [These kids] don't have a family if this goes away.
Asay: One of the things that resonated with me was the idea of doing the right thing even when it's hard. Omar [the orphanage director played by Gonzalez] often talks about how important that is, and one of the kids he comes in contact with looks at Omar's life and his beat-up truck and doesn't see the attraction. That's something that I think a lot of Christians can wrestle with: Doing the right thing even if it doesn't seem to pay off—and Omar comes to wrestle with that in a very real way. He's given a choice to cheat and save the orphanage or stick to his principles and, very likely, watch the orphanage fail.
Dowling: I think that speaks to integrity. As believers, I think we should be holding ourselves to the upmost and the highest [standards] of integrity, like he said, even if it seems like it's going to be detrimental. I think it's cool seeing a story where that pays off in the end.
That's what I love about this. [Omar's temptation] wasn't a selfish thing. … Omar really had the weight of the world on him, because it was like he's trying to figure out, 'Do I try to skirt the system.' Because it's not like ''I'm doing it for me, I'm doing it for these kids.'
That was the fun thing to get to put on him and what was happening, and to have that debate. Because I think it's a debate—as I was writing, I had [that debate] with my wife. I asked her, 'Would you cheat if you felt like you had no way out and you were going to lose the orphanage?' I think that's a discussion that everyone can have. It's a real thing.
Asay: When I look at your career, you've done a lot of faith-oriented films. Some feel like they're really part of that Christian film subgenre. And then some are like Blue Miracle, where it sort of walks the line between a spiritual and secular film. What appeals to you about telling these sorts of stories? And what do you try to do with them?
Dowling: Aside from the faith elements of the stories, we always try to start with real characters and a good actual story, if that makes sense. It's not propaganda or a sermon. … I think that's always more interesting, making movies that people hopefully talk about. And I like moving in this direction of where, like you said, Blue Miracle kind of straddles the line … and some other projects that I have coming out are kind of in that space—with bigger budgets and made to have a broader appeal. But there's still a faith worldview inside the movie. I think there's something really exciting about that for me.
You can watch Blue Miracle now on Netflix.