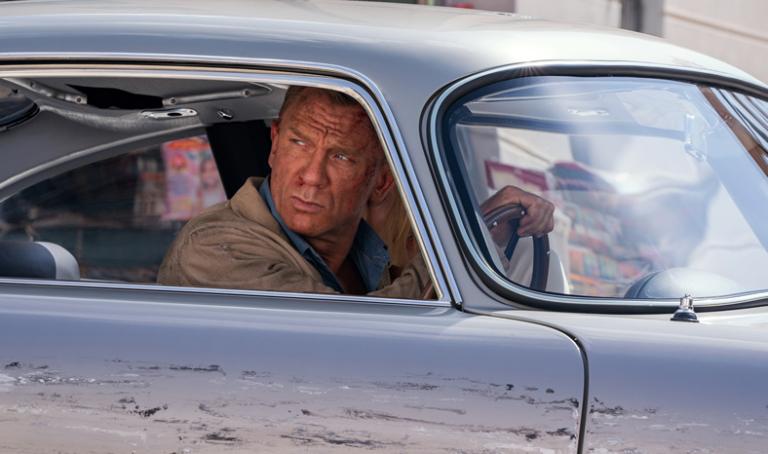 James Bond is not, by tradition, a particularly loving man.
Oh, he certainly is an expert at sex. He's had more pairings than a communal gym sock. But love? That's different. Outside an all-too-short marriage in 1969 (terminated by an assassin in On Her Majesty's Secret Service) and a tender tryst with the turncoat Vesper Lynd (who promptly died in 2006's Casino Royale), Bond's relationships rarely last longer than ground beef does at room temperature. Outside his banter with Moneypenny, has a single Bond romance lasted past the credits?
Well, now one has.
Before No Time to Die, the last time we saw James Bond (played by Daniel Craig, of course) was in 2015 with Madeleine Swann (Léa Seydoux), the beautiful psychiatrist with family ties to SPECTRE, the crime syndicate 007 has spent ever-so-many movies trying to squelch. Madeleine's pull was so great that she helped him do what nearly five decades and 23 previous movies hadn't: Turn in his license to kill.
As No Time to Die opens (you can read my full review for Plugged In here), Bond is still with Madeleine, driving through a picturesque slice of Italy on, perhaps, their honeymoon. When Madeleine asks James to drive faster, he refuses. "We have all the time in the world."
But that, of course, is not true. The next morning, Bond is nearly killed by a sabotaged crypt (Vesper's, in fact). He spies a telltale SPECTRE calling card and immediately suspects his beautiful better half. Much chaos ensues. And while Madeleine seems blameless for the attack, Bond's done. He puts her on a train and turns his back as she speeds out of the station. James Bond, it seems, is on his own again.
But here's one of the interesting things about No Time to Die: The spy doesn't just move on to the next mission, the next lover, the next vodka martini. The Bond we see here is different. He's not begging for his old number back. For five years, it seems, he spends his days and nights in a Jamaica hideaway—alone except for the fish he catches.
It couldn't remain that way, naturally. If it did, No Time to Die would've been the most disappointing James Bond flick in history. Soon, James' old buddy, Felix Leiter of the CIA, is knocking on his door and asking for a little help. Seems Bond's old friends at MI6 had been employing a former SPECTRE scientist on a secret project. That scientist is gone now—broken out by a bunch of skilled commandos who left a whole bunch of dead Ph.D holders in their wake. Now Felix wants to know where that scientist is now and, perhaps more importantly, what he was working on.
Business as usual, right? No. Circumstances soon force James to cross paths with Madeleine once again—and meet Madeleine's young daughter, Mathilde.
Before that meeting, No Time to Die offers moviegoers a familiar Bond-ian experience: beautiful women, glamorous settings, plenty of gunplay, slightly outlandish villains. But when Madeleine and Mathilde enter the narrative in earnest, it takes on new depth and power.
Bond, it seems, found love after all.
I don't want to spoil the rest of the film. But in Daniel Craig's capable hands, Bond moves from the slick, suave killer beloved by generations of fans into something richer—a boutonniere rose that not just looks great, but feels and smells alive. He's not fighting for just Queen and Country anymore. He's not just about completing a mission and saving who he can along the way. He's living—living for people besides himself.
The film includes a quote by Jack London: "The function of man is to live, not to exist. I shall not waste my days trying to prolong them."
It's a great quote, but as I watched Bond here, another came to mind, too—one from the Apostle Paul as he wrote in 1 Corinthians:
If I speak in the tongues of men and of angels, but have not love, I am a noisy gong or a clanging cymbal. … If I give away all I have, and if I deliver up my body to be burned, but have not love, I gain nothing. Love is patient and kind; love does not envy or boast; it is not arrogant or rue. It does not insist on its own way; it is not irritable or resentful; it does not rejoice at wrongdoing, but rejoices with the truth. Love bears all things, believes all things, hopes all things, endures all things. Love never ends.
James Bond has always been willing to give his life for the mission—to deliver up his body to be burned. But you could argue that Bond was, in large part, everything that love was not. Bond was not patient or kind; he was boastful and arrogant. He committed many wrongs in his quest to do right, told countless lies to uncover secret truths.
But in No Time to Die, he gets it. Even if he never read Paul's beautiful passage, Bond understands, truly, that the greatest of these is love. Bearing, believing, hoping, enduring. Especially enduring.