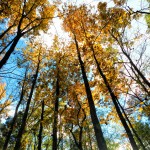 My day is going SO WELL. I wonder if it's because I'm participating in #GraceofYesDay, along with Lisa Hendey and Ave Maria Press?
The graces certainly are pouring into every moment of this beautiful, wind-swept, fall day. I'm very busy because I'm preparing to go out of town to speak at a catechetical conference out west, and I still have multiple writing deadlines and laundry up to my armpits. I need to battle back some of those dust kitties, too!
This morning I stopped into a neighborhood nail salon and had a mani-pedi, and the women there were so kind to me. See, I was in a rush, so they had two ladies working on me simultaneously! It was comical, like something out of a movie. And then, while I was under the nail dryer, I got a head/back/arm massage like you wouldn't believe, FREE. (Of course, I tipped her and thanked her profusely.) It's always a nice place to stop in, but in a very palpable way, it just seemed that the whole salon was filled with love, today. That has to be God's grace. I say YES to that.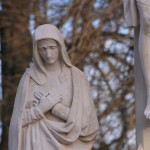 My daughter and I have talked a lot about how, with so much suffering in the world, it can be hard to be truly happy. After all, it seems disloyal to our suffering brothers and sisters in the Middle East, Africa, Asia, and other places where there are persecutions, diseases, and wars.
But God is infinite and so are his graces! He can lavish love on every single soul simultaneously without breaking a sweat! So let's say YES to both giving and receiving, today.
Lord, bring it on! And show me how and where you want it shared, today.
Here are some terrific friends and family saying YES to God today!
Thanks so much to my daughter and her friend who said "YES!" at the Women of Beauty conference here in New York, to the lovely and hilarious Pat Gohn (check out her awesome book!), to super-DRE William O'Leary who blogs at Relevant Catechesis and writes for my website, AmazingCatechists.com, to the amazing and beautiful Santos family (check out Karee and Manny's marriage blog! and Karee's posts at Amazing Catechists!), the 4th and 5th graders at St. Edward Catholic Church in Florida, and their DRE, Deanna Bartalini, who also just started writing for Amazing Catechists!
Thank you all for your inspiring lives and the way you give so much, day in and day out. I'd say that was a YES.
Love,
Lisa