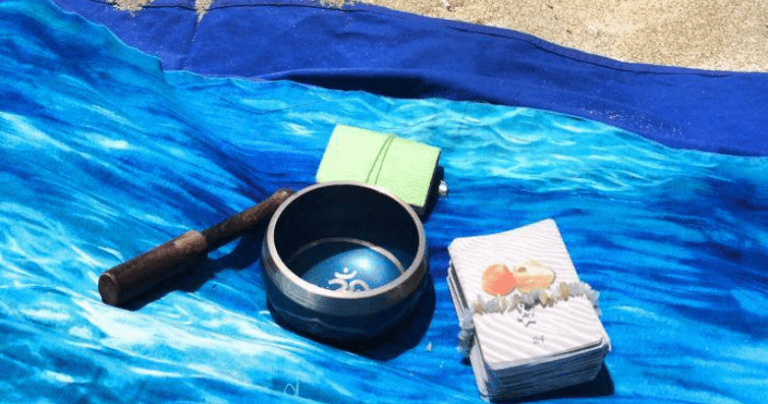 Interview with a Water Priestess – Sarah Chapman of Ocean Dreams Reiki
Please introduce us to your Sacred Body of Water.
Where is it located? Currently located in Narragansett Bay, but it changes every few years when we move. I am a military spouse to a husband in the Coast Guard.
What makes this body of water sacred? It's a place that a few locals come to near a Boat Ramp. The beach area and looking out to the Bay, is Sacred to me. A place of respite and calm. It is also part Bay and Estuary. Narragansett Bay is a ria, a drowned river valley that remains open to the sea
What types of spirits dwell here? I have been connecting with Whale energy.
What brought you to this sacred water place?
Were you drawn to the energy? It seemed calm and peaceful.
Was it spirit lead? Yes, I feel like we found it, when we were looking for a beach to connect us to the land here. We had moved here 2 years ago and I wanted somewhere I could bring my boys, for doing sacred rituals or just appreciating the sea. Away from the typically crowded beaches that you were forced to pay for. This one was free and I think not many people knew about it or come here.
Can you tell us a little bit about the history of this place? It is part of the earliest colonial settlement sites in Rhode Island. Before that home to the Narragansett and Wampanoag Tribes.
My Magickal Journey
How did you learn the Magical Arts? I first started learning about "magick", when I found my Pagan path, back in the late 90's. A friend of mine referred me to Raymond Buckland's Book of Witchcraft, and from there I started researching about witchcraft and Paganism. I came across a group/coven that was advertised at a local crystal shop in Southern California. I went to one of their meetings, and my training started there. It was called the Druidic Craft of the Wise. I was drawn to it because it had "Druidic" in the name and thought it was a Druid group. However, they were more focused on Wiccan practices. I spent a year and a day, taking basic magickal practice classes. Attend temple meetings, camping or celebrating the Wheel of the Year. Then, I was initiated into the Coven, and later started Priestess training, but I left before I could complete it. I was also initiated into the Sacred Well Congregation in Hawaii, so I could co-lead the Military Pagan Circle on the Air Force base.
How did you first discover you were a Water Priestess?
I have always been drawn to the energy of water. I am a Scorpio with a Pisces Moon, and water definitely runs through my veins! I also have Aquarius Ascendant which brings in the air energy, that helps to cleanse us as well, when we are standing at the water's edge.
I really started to delve deeper into water magick after buying Sandra Kyne's book Sea Magic. I also came across a website called, Seawitch.org. It was in the old forums that I connected to others and learned more of this beautiful path.
Of course, living in Southern California helped as well! I often spent my time down at Laguna Beach, during sunset and evening, just walking on the sand, watching the tides, calling out to the Gods to grant my wishes.
Who are you and how do you practice? Tell us about your background, and any training you may have done to prepare for this role.
My prior magickal training helped inspire me to become a Sea Witch. But really getting to play with the sand and the sea, was the only preparation I needed. I also began to notice that I worked well with elemental energy in general. When I would stand outside to do ritual work or just connecting to the sea. I would notice the wind always started to pick up when it was once calm. I would see shapes in the clouds that were symbolic.
I started to find heart-shaped coral on the beaches, later on when I moved to Hawaii. There my connection to water energy grew even more. I did a self-initiation as a Sea Priestess, studying from Sandra's book.
When I was the "Priestess/Facilitator" for the Pagan Military group, I would often choose to lead our rituals down by the sea. Including the water, as part of the ritual. Calling on different Water Goddesses at different times of the year, or Full Moon rites. Using the book as inspiration for some of the rituals, and others I researched and created from different cultures I was drawn too.
What is your path? And how does it relate to your Water caretaking? While living in Hawaii, I learned Reiki. Over the course of 3 years, I became a Reiki Master Teacher. I sort of veered away from pagan rituals and practices for a while and just focused on the Reiki. However, whenever I visited the beach, I realized I could start sending Reiki to the Ocean to help her. I felt an even stronger energetic connection at this point! Whenever I put my hands out to the sea, I could feel waves of energy, now flowing over me! The warmth of the sand warmed my soul. The trees behind me, swaying and their leaves flowing brought me the grounding I needed. It was truly a mutual healing experience with nature.
With this, I felt such a strong connection to the Land, Sea, and Sky and resonated with the Celtic/Druid traditions. For this reason, if I needed a label, it may be Sea Druid or Ocean Priestess. I started to call in ocean energy, mermaids, dolphins, and whales while doing Reiki. I also work with Gods and Goddesses, over the years like Yemaya, Aphrodite, Arianrhod, Manannan, Poseidon, Brighid, Athena, Isis, and Kuan Yin. They each have sacred elemental energy to me. And all of these various elements flow in my sacred water practice, to help others and the planet.
Ocean Dreams Reiki, my business represents my love of the sea, and wanting to help heal others with the calming energy of Reiki and water. I also create Crystal Grids as well, to send healing to the planet. Grids for World's Ocean Day, Earth Day, and whenever there has been a major disaster to help the people and animals of the ocean.
Tell us about the work you do there now?
What did you do when you first arrived? How did you make the space sacred, or continue to keep it sacred and holy? I actually made the place I go to now sacred by placing a crystal grid on the beach. I had a friend that enlisted several magickal practitioners, to place a crystal grid in form of a Merkaba on their favorite beach, and send energy to connect it to the other grids around the world for healing.
What type of work (spells, rituals, magic etc) do you do there? When I go to the bay, I often do simple rituals including sending Reiki to the Bay for the people who live here, the sea creatures, and to heal it from pollution from the many boaters. I have offered crystals to the sea several times.
Was the place sacred when you arrived? Or was it a challenge to shift the energy into a blessed space? I feel all of nature is inherently sacred, but I felt the Reiki we did to the area, helped to energetically uplift it. I don't get to visit often, but when I do, I often include my children in sending healing energy there.
What dangers does your body of water currently face? Any perceived threats in the future? This bay is threatened by pollution of the many boats that come through. There is always plastic and other kinds of trash washing up along the shore. It is also near a Naval base and the ships are constantly going through the bay, out to sea.
What is the goal of your work there? To send healing energy as often as I can to the place, while I still live here.
Can you tell us more about the rituals you perform with this water? Either through renewing the crystal grid energy, collecting trash, sending Reiki to the water and animals. I created a new crystal grid on the Summer Solstice with Kyanite, Quartz, and shells and rocks I found on this beach. Basically, all my rituals are simple, using the elements and Reiki.
How do you feel about the current attack on water? Standing Rock? And Pollution in general?
Do you feel that your work is connected to this? I feel that every little bit of healing I can send to the water makes a small difference. I often try to encourage others to send crystal energy or Reiki to all the bodies of water, if they aren't near one themselves. I have a page called "Healing our Sacred Earth" on Facebook, where I share knowledge of current events on Earth related to the environment. I also encourage others to participate in finding ways to reduce their carbon footprint and help the environment.
Do you participate in water activism? I try to do what I can on my own but haven't formally participated in events.
What types of rituals and spells have you done to protect your sacred body of water and the water of the world? I often tap into Universal energy or Reiki to call on protection for the planet. Each night at bedtime with my children, we send Reiki together for the Land, Sea, and Sky.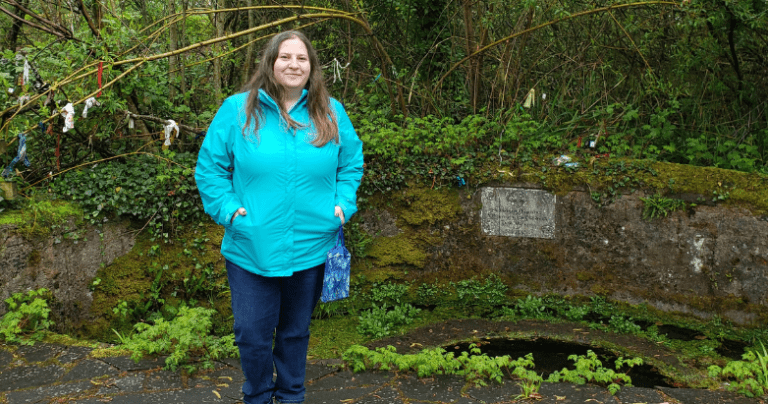 Is there anything else that you might like to share with our readers? I just feel that is important as healers or witches, that we focus not only on bettering ourselves but the planet. Everything we do now affects future generations. We need to make more conscious choices. And even when we can't all the time, whatever efforts we do make, will help raise the vibration of the planet, the awareness of what has been done and what needs to change, and in some way may heal it.
If you would like to know more about Sarah Chapman and her work as a Water Priestess visit the below links!
www.facebook.com/oceandreamsreiki
www.instagram.com/oceandreamsreiki
www.seadruid.wixsite.com/oceandreamsreiki
Would you like to know more about Water Priestess and Witch Annwyn Avalon visit www.WaterWitchcraft.com and www.WaterPriestess.com
*** Are you a Working Water Priestess? Would you like to be interviewed or added to the Water Priestess Directory? Contact Annwyn at www.WaterPriestess.com