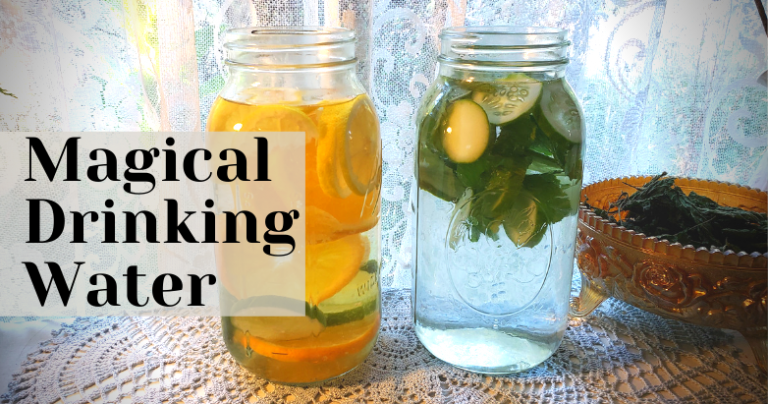 Creating Magical Drinking Water
One of the biggest struggles for many of my students is to drink water. It is actually one of the first assignments I give most of my students. Start drinking 8 glasses of water a day! Or at least begin to consciously drink water. We discuss different types of water and how to begin deepening our practice and connected with this element on a daily basis.
If your magic leans towards working with water you may already do this, but for many drinking water on a regular basis can be a challenge! One of the biggest complaints I hear is the taste or that they just don't like it. Another is they just keep forgetting! It is so important to stay hydrated. I am pretty good at consuming enough water each day. However, on occasion life just gets in the way, sometimes I forget to eat, do a chore or dun da dun… drink water.
When I am overwhelmed, I find that having my water ready to drink is helpful! I usually use a half-gallon sized mason jar. This isn't a full gallon like some people like to drink, but it is more than enough to get you started in a daily conscious water drinking practice. You may also wish to create both recipes below and drink a full gallon that way! Of course, there are many ways to drink water consciously. One is to give thanks each time you drink, another is to charge it with Reiki, Sacred Symbols, Sound, Gemstones (Be careful! Not all gem water is safe to drink), and even flowers!
Water and Plants work well together in magic and magical practices. Herbal tea is the merging of hot water and dried roots, leafy herbs, or flowers. Flower essences are a sun infusion of fresh petals and solar water. So it gave me pause to think about the use of fruits and veggies in water and what that might look and feel like. Fruit is full of water, but so often we forget about fruit when it comes to magic. We give it as offerings, but do we usually cast with it? For the most part no, but of course, there are always exceptions.
In my own practice, I have used Pomegranates and Apples in spell work many times. Fruit is the golden nugget of the plant spirit. It is the bounty and abundance; it is nourishment and sweetness and it pairs well with water! Two of my favorite water recipes that I have been using this summer are cucumber mint water and citrus water! They are both quite easy to make and delicious to partake!
Sunny Citrus
I like to start off the day with cool citrus water. I usually make it the night before so it is ready for me to drink in the morning. Making this citrus water is so much fun and very easy! During Blood Orange Season I love using Blood Oranges and Lemon mixed into the water. However, in the summer I like to add a lime to the combination! I simply wash the fruit and slice it with the skin on. I then plop them in the water, give a stir, and place in the fridge! It will be ready to drink with breakfast! These citrus fruits can bring in the energies of fertility, strength, and victory from the Orange. The lemon can bring in an aspect of love and romance. The lime for protection, or in relation to magic involving the feminine.
Cooling Cucumber
Towards dinner, I like to switch and drink the cooling cucumber mint water. It is also refreshing, but has a grounding and cooling energy to it. Like the citrus water, the cucumber mint is quite easy to make. You can also make this the evening before or you can create it in the morning and leave it in the fridge to cool till the afternoon. I begin by filling the jar mostly to the top. I then slice a homegrown cucumber and place it in the water. I then pull a few leaves off the peppermint plant and twist and crush them a little to get the scent and flavor releasing. I then place it in the water with the cucumber. Be sure to use fresh peppermint here, dried will not do! When this is done, I give it a little swirl and place it in the fridge. In about 30 minutes it is flavorful and ready to drink! This one is calming as well as nourishing. I like to drink this in the evenings as well as when I am feeling that tenderness pull on my body and soul. It is both grounding and uplifting. It also aligns with moon energies through the Cucumbers correspondences as well as Venus through Peppermint. This herb also helps with dream and prophetic work. So if you decide to drink this before bed, perhaps charge it with the intent of prophetic or magical dreams!