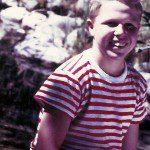 Robert Wallace Blair passed away in his sleep on February 19, 2016 at age 85.
Robert was born on September 25, 1930 to Wallace and Gladys Marguerite Green Blair in Santa Barbara, California. He joined his sister, Carolyn, in that family and lived a childhood filled with disciplined freedom.

He trotted through Mission Oaks Lane on his horse (Jupiter), with his dog (Trixy) running beside him, and his goat (Bambi) bawling by her pen. He was Bobby in those years, and loved the bells of the Old Mission Catholic Church, the waves of the Pacific Ocean, and playing the trombone at Santa Barbara High.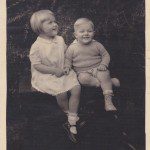 He loved his home, nestled in oak trees with bougainvillea sprawled over the patio, where his mother had Japanese lanterns lit every evening. He loved his mother's meals, whether they were homemade or Arnoldi's ravioli, or Mrs. Foray's enchiladas. He loved the flowers his mother would set on the patio table–usually single gardenias in a bowl of shallow water. He loved his red-headed father, who would sing him bedtime songs about boys dying in the woods–presumably to keep Robert from roaming too far from home. He loved his sister, even though she was allowed to practice the piano while he had to do dishes. He never recovered from this inequity.
When Robert was nine years old, he received his patriarchal blessing from Almy Larson, a cousin. The blessing told him that he had the "gift of tongues" and would be an ambassador for the Lord in many nations.
He became particularly curious about the power of language and strong words when, at age fourteen, he "borrowed" Carolyn's car after she told him to stay away from it. He was intensely careful, of course, but still managed to scrape it when entering the garage. Carolyn's response to the damage was, "Damn you, Bobby!" He found the taboo language fascinating, though he soon abhorred all demeaning words. Alone one night and struck by the ugliness of vulgarity (he had heard someone refer to his mother with an ugly expletive), Robert made a private vow to God that he would never use vulgar language. He kept his promise.
On April 1, 19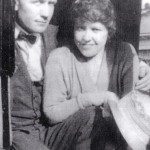 49, while a Freshman at BYU, Robert's shorthand class was interrupted by his sister, who insisted he come into the hall. He obeyed, and she whispered, "Daddy has died."
The two of them took a train to Santa Barbara. Carolyn cared for their tranquilized mother while Robert took care of funeral details. Late at night, after managing all of the planning, he went alone to the mortuary to see his father's body, and wept.
At age 19, Robert accepted a mission call from the LDS Church to serve in Finland for three years. He had no training in the language, but invented his own study course and spoke fluently within six months. He sometimes looked across the Baltic Sea to Estonia, and contemplated what was happening there as the Soviet Union was spreading. He had already learned Russian, and had wanted to be called to Russia.
After he returned from his mission in 1953, he enrolled in BYU's English department.
In his LDS ward, he met a stunning beauty: Julia Gay Groberg, from Idaho Falls. He was instantly smitten—especially after mee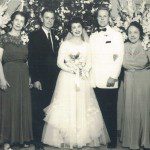 ting her ten siblings and her good parents. (After all, he had only one sibling, and she avoided chores by practicing the piano.) Robert and Julia married on August 17, 1954 in the Idaho Falls Temple, and had five children within six years, taking a much needed break after the birth of Elizabeth (Lisa), who was a nearly perfect child and seemed a fitting finish. Eight years after that break, however, they decided to try for another perfect child, but ended up with three almost-perfect ones: James Groberg, Benjamin Wallace, and Carolyn.
On November 7, 1972, Robert received a phone call from his mother. She said, "Pray for Carolyn!" His sister had had a heart attack. She passed away. Robert adored his sister and admired her. He grieved this loss deeply and wept when members of the Tabernacle Choir (in which Carolyn had sung)  sang "God Be With You Till We Meet Again." Those words were the same which his Finnish friends had sung to him as his boat left Finland; the same words which were engraved on his father's tombstone; and were the signature sign-off for every Tabernacle Choir broadcast. Robert observed soberly: "Now Carolyn knows that great mystery."
Devastated, Marguerite Blair lasted only two more years, dying on March 29, 1974. She had lived long enough to see her grandson Ben Blair, but did not see the next Blair child, who would bear Carolyn's name. Carol Blair Madsen was born on December 16, 1974.
As 1975 began, Robert took the older children with him to Guatemala, where he would teach Mormon missionaries to speak the Mayan dialect, Cakchiquel. He selected a young Cakchiquel man, Daniel Choc, to be his assistant. Daniel was a playful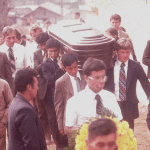 but disciplined helper, and was himself called to be a missionary within a few months of becoming Robert's assistant. Eight months after the Blairs returned from Guatemala, a 7.9 earthquake struck the area where they had lived. Daniel's mother and two of his siblings died the night of the quake, February 4, 1976. A month later, Daniel, helping with the reconstruction of fallen homes, died when a wall fell on him. Robert was heart broken.Daniel had been like a son to him.
In 1980, Robert and Julia were given a rare opportunity to live in Mainland China with one child. They chose Carolyn, who, like Lisa, was nearly perfect. Carolyn learned Chinese well enough to order huge meals on the train and to sing Wo Ai Beijing in front of a hundred Chinese first graders.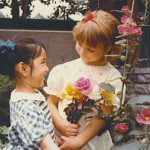 To be continued. . .